USPS: This document contains frequently asked questions (FAQs) regarding the process and activities related to employee retreat rights. Read more
The 2011 APWU National Agreement created a new category of clerks called non-traditional full-time (NTFT) clerks. Many of these NTFT clerks have a regular schedule of fewer than 40 hours per week. Management has begun to excess some of these clerks into full-time letter carrier jobs. The NALC believes that a clerk who works fewer than 40 hours can only be excessed into another part-time regular position, not into a full-time letter carrier position.
Part-time regular letter carriers are considered to be a separate category. Seniority for assignment and other purposes shall be restricted to this category. They may not bid on preferred full-time duty assignments. On February 22, 2012, the NALC notified the USPS that a case scheduled for regional arbitration out of Westerly, RI, concerning this issue was interpretive. Read more
This Time It's Me
It appears that the Postal Service is determined to continue with plans to consolidate over 200 mail processing facilities and to comply with consultation requirements of the contract they have met with the union. This is bad news as over 35,000 jobs will be eliminated and employees will be required to either relocate or drive many miles to their place of employment every day. The politicians achieved the six month moratorium but time has passed and what seemed like a victory six months ago is of little help today. It is assumed that there will be disagreements over the ban on excessing beyond 50 miles, but a close inspection of the actual language reveals that the alleged ban was more propaganda than an actual agreement. The actual language says "that if in unusual situations there are insufficient vacancies available for placement within fifty (50) miles, "the parties will determine what steps may be taken."
If disputes do arise they will center on whether to "be reassigned" under Consolidations qualifies as "excessing." Article 12.5.C.2 Consolidations does not use the term "excess" or "excessing" in the reassignment of employees.
I doubt that this can be manipulated to apply only to employees hired after November, 21, 2010. The huge reduction in pay and eligibility to be involuntarily assigned to NFTY work schedules was OK because they didn't apply to the union members who voted, but there is no line between new and old employees in consolidations.
Everyone who wants to limit relocation due to consolidations to newly hired employees only, please raise your hand!
Bill Burrus
Burrus Journal
USPS Management Message Confirms Excessing Moratorium
From: Mike Morris, APWU
"APWU Union officials in locales where managers are balking at implementing the moratorium on excessing that was announced on Dec. 15 will be pleased to see al message from a headquarters-level manager notifying Area-level officials of the agreement. "
Subject: Excessing Moratorium
Brothers and Sisters:
Below is an email sent from Bob Brenker to Area Management Officials regarding the moratorium on excessing that was agreed to by President Guffey and PMG Donohoe.
For those managers who wanted to see something in writing from the USPS, this is it.
We don't have any major differences with what is stated here. It makes some sense to continue to offer withheld residual vacancies over the next few days in the event that negotiations break down and the moratorium is ended quickly.
If; however, an agreement is reached and a substantially longer moratorium is achieved in negotiations: continuing to offer residual vacancies to impacted employees, which would likely not resemble what might be available to them at the end of a lengthy moratorium, would make no sense.
If you have local managers who continue to refuse to accept the moratorium on excessing, please let me know.
Mike Morris
The APWU and the Postal Service have agreed to a freeze on excessing while contract negotiations continue, union President Cliff Guffey has announced. "Throughout the bargaining process, the APWU has sought to negotiate a contract that would protect jobs and lessen the pain of excessing for our members. We are pursuing those goals," he said.
In the meantime, the moratorium on excessing is a demonstration of good faith that will make the holidays a lot brighter for many of our members," Guffey said. "The freeze will remain in effect as long as bargaining continues, and will apply to excessing outside of a craft or installation."
Such excessing was imminent in hundreds of locations, and would have affected thousands of employees. The excessing will be halted at all sites while bargaining goes on, the union president said.
"Union negotiators will persevere in our efforts to negotiate a collective bargaining agreement that meets our long-term goals," Guffey added. "We have been working diligently to reach an agreement that will benefit postal workers and the Postal Service. We will continue our efforts until we reach a settlement – or it becomes clear that an agreement cannot be reached. If we conclude that a contract is not within our grasp, we are prepared to proceed to arbitration.
"One of our top priorities is to restore work that has been contracted out or assigned to supervisory personnel. This would bring stability to APWU members who have suffered severe hardships due to long-distance reassignments caused by excessing," he said.
"The proposals we have submitted to achieve this objective also would benefit the Postal Service," Guffey said. "Our proposals would save the USPS money, because our members can perform these duties more efficiently and less expensively."
In addition to job security and alleviating the pain of excessing, the parties are discussing wages, benefits and issues related to workforce structure.
Mediation, Arbitration
The contract was originally scheduled to expire Nov. 20, but the union and management extended the deadline. The 2006-2010 Collective Bargaining Agreement will remain in effect until a new agreement is reached through negotiation, mediation, or arbitration.
Under the terms of the Postal Reorganization Act of 1970, if the union and management fail to reach agreement on a successor contract and do not agree on an alternate procedure, the Federal Mediation and Conciliation Service (FMCS) appoints a mediator. If a settlement is not reached within 60 days of the expiration of the contract, both parties submit all outstanding issues to binding arbitration.
If arbitration becomes necessary, the APWU will appoint an arbitrator, as will the USPS. The two party-appointed arbitrators will work with a neutral arbitrator to ensure that each side's interests are clearly understood.
"The APWU will continue our efforts to negotiate a contract that benefits postal workers and the Postal Service," Guffey said. "I ask union members for their continued support as this process unfolds."
The APWU will continue to provide frequent updates regarding the status of collective bargaining. For the latest developments, please visit www.apwu.org. Members are also encouraged to follow the union on Twitter and Facebook to receive up-to-the-minute alerts by e-mail or text message.
The following are excerpts from  two APWU Regional Coordinators addressing  the issue of USPS excessing:
It is no secret that low mail volume has led to massive excessing. The APWU has responded by fighting relentlessly to protect our members' rights.
The battle is complicated enough without the addition of other parties. Recently, however, the installation of Flat Sequence Sorter (FSS) machines has affected members of our sister union, the National Association of Letter Carriers (NALC).
Unfortunately, the NALC recently filed a Step 4 Dispute, which asserts that no Clerk Craft employee should be excessed into a Letter Carrier position unless all APWU positions have been filled — in every installation from Maine to Guam. Needless to say, the APWU disagrees.
In March, a Clerk Craft employee was excessed 150 miles from his facility into another installation where the only open positions were residual vacancies in the Letter Carrier Craft. After the excessed clerk settled in as a carrier, the local NALC filed a grievance.
After a period of time, a Clerk Craft residual position became available in the installation. The local NALC and the Postal Service agreed that the excessed clerk, who had been working as a carrier, would be moved into the clerk vacancy by the end of the year.
This, of course, is a violation of the Collective Bargaining Agreement (CBA). The NALC and the USPS do not have the right to arbitrarily reassign an employee from one craft to another. The clerk position was not available in the installation when the employee was excessed, and even if it were, according to the CBA, the employee had the right to choose his position. This USPS-NALC agreement also raises a question: What would happen to the employee's seniority after the switch?
This problem is being addressed at both the local and Area levels. The APWU also is challenging the authority of the USPS to make arbitrary decisions dealing with issues covered by our CBA without the intervention of the APWU.
Bill Sullivan, former APWU Southern Region Coordinator
Gut-Wrenching Tales of Excessing
In a recent facility closure, management — in a mad rush to excess employees — relocated some employees as far as 500 miles away from their home office.
One of the employees was a single parent who owned a primary home and a vacant rental property and ended up being excessed 350 miles away. She moved into a small apartment in the new location, but could not afford to continue to pay two mortgages and the apartment rental. She was forced to put both houses up for sale, but could not sell them fast enough. The bank ended up foreclosing on both properties, essentially destroying the woman's credit.
Several married couples ended up being excessed to distant locations because of differences in seniority: The senior spouse could have remained local, while the junior spouse would have been excessed hundreds of miles away. To keep the family together, the senior employees chose undesirable jobs in undesirable locations so they could be assigned to the same workplace as their husband or wife.
One single parent with primary custody of her children who was excessed to a different state ended up in a custody battle with her estranged husband. The husband insisted that she could not take the children out of the state.
There also were a number of employees who, due to personal circumstances, just could not follow their job to a new location and were forced to quit.
Mike Gallagher
APWU Eastern Region Coordinator
The following is an article written by Stephen Lysaght, APWU President, East Bay Area Local #47 located in Walnut Creek, CA. The issues raised in his article is happening in many USPS districts across the country–and not just in the Bay-Valley District.
After years of excessing Clerks outside their installations and thereby gutting the workforce in nearly all our offices, we hoped that management could not possibly be planning to excess any more employees outside their installations. Clerk staffing has already been reduced to its lowest levels ever, with many of our offices having no employees for vacation coverage, no clerks to clear Carriers of their accountables or do dispatch in the afternoon, and no Clerks to assist customers at will-call doors.
Our hopes were dashed recently when we received a copy of another excessing notice issued to Regional Coordinator Omar Gonzalez dated Sept. 10. The Area intends to involuntarily reassign the following numbers of full-time Clerks within a 900 mile radius to residual vacancies in the Clerk, Carrier, Mail Handler, or Custodial crafts.
Brentwood-2
Lafayette -1
Newark- 1
Pleasanton-4
Vallejo-4
Although the reassignments normally should not take place for at least 6 months, the Area also indicated that they may be begin sooner due to "the loss of workload Nationally and the financials of the Postal Service."
Grievances have already been initiated in all 5 offices to challenge the excessing. One of the primary arguments is that the underlying staffing and scheduling reviews conducted by District number crunchers constitute improper time and work standards. These reviews are based on Customer Service Variance-a euphemism for predetermined formulas for how much time is allowed to perform all Clerk craft work. We believe that it is inherently unfair, inequitable, and unreasonable to impose any such time and work standards on all employees in an office, regardless of their age, experience, or other extenuating circumstances.
Although management invariably argues that using Customer Service Variance to determine staffing levels does not represent time and work standards, the Union disagrees. While individual employees may not be disciplined for failing to distribute a certain amount of mail pieces per hour, or for taking longer to conduct a window transaction than Customer Service Variance "allows", involuntariy reassigning them up to 900 miles away does in fact constitute a form of "punishment" for being a junior Clerk in an "impacted" office. We anticipate an arbitrator will eventually agree with the Union's position on one of these grievances soon.
The final number of Clerks excessed from the SFNDC (formerly BMC) was 64, rather than 63 as reported in the last issue of the Unionizer. Of that number, 5 elected to change to PTR
rather than be reassigned as far away as Santa Clarita in southern California. The good news is that priority mail will soon be processed at the NDC, which will lead to the activation of retreat rights for some of these employees. Management has also advised the Union that it will likely go back to a 3 tour operation. Updated information will be shared with our members as it is received.
"As background, the Service had taken a position (in National case Q98C4QC02005533) that they could ignore or waive the exam at their discretion (for example, in cases of excessing) yet maintain that minimum qualification requirement for members of the Maintenance Craft. As one example of the absurd situation this creates; current maintenance employees could not down grade or be promoted into custodial duty assignments because they were not qualified (in the USPS' position) due to not having the Test 916 on their record. Our position is the Service can't have it both ways, either waive the requirement for everyone or it must be enforced across the board and cannot be selectively waived." (APWU, 2007)
Here is the text of the letter from USPS:
June 25, 2010
MANAGERS, HUMAN RESOURCES (AREA)
SUBJECT: Suspending Examination Requirement for Custodial Jobs
Suspension of the examination requirement for custodial jobs was announced via Vice President Deborah Giannoni-Jackson's August 6, 2007, memorandum. The examination requirement was then extended to September 30,2010, by a subsequent September 4, 2008, memorandum. This suspension is being extended again, until September 30, 2011 . The reassignment of many career bargaining·unit employees has been greatly expedited by this temporary suspension, thereby supporting our efforts to deal with the impact of automation and changes in the postal business environment.
Career employees reassigned in accordance with Article 12 andlor moving voluntarily to custodial positions should not be given Examination 916, or be required to qualify during this suspension.
These employees must meet all requirements shown on the qualification standard for the position to which they are being reassigned, including satisfactory completion of any prescribed training. Districts may continue to use in-service custodial registers.
This suspension removes work from the process of placing employees into custodial positions to more rapidly make staffing changes in our work place.
Copy of Letter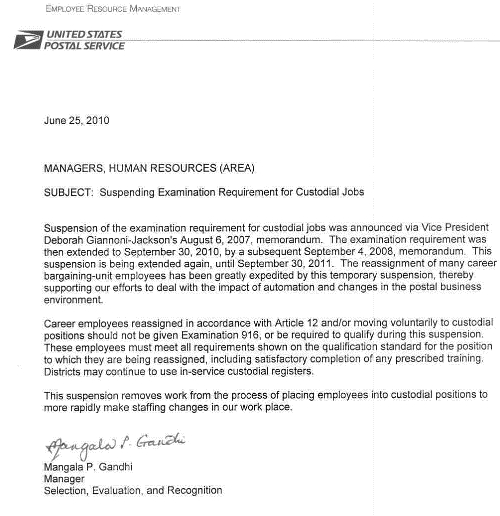 source: Gary Kloepfer, APWU, Maintenance Division
From the National League of Postmaster's President's Message:
Delivery Unit Optimization (DUO) is being implemented at break neck speed and by Tuesday a new Power Point presentation will be on the web site. Review it, learn it and train other Postmasters on it. There are many impacts with DUO; pay, Postmaster level and the future of some Post Offices are at stake. In its original design DUO was to maximize the use of clerk resources with a secondary benefit of better use of existing building space. We want to make sure that as it rolls out across the country it does not mutate into another program that does not benefit Postmasters, the Postal Service or its customers and further jeopardizes universal service. Every National Vice President, Area Coordinator and most state Presidents are in the process of being trained on DUO so call a LEAGUE leader if you have questions and need answers.
source: National League of Postmasters – Presidents Message
What is the Delivery Unit Optimization Initiative?Delivery Unit Optimization (DUO) is a cross functional effort to streamline Delivery and Post Office Operations.
By identifying savings opportunities in operations we better position our offices for current success and future change.
Savings Opportunity Areas:
Function 4 Operations
● Complement
Office Level (Postmaster/EAS)
Facilities
● Lease
● Custodial
Transportation
● Trips/Frequency
Candidate Offices:
Grouping of post offices within 10-15 mile radius
Serviced by the same processing facility
Facility Capacities
● Excess workspace in at least 1 office
● Sufficient parking
Current Staffing
● EAS/Craft
"Hub"
● Receives delivery operations
"Post Offices"
● 9 routes or less
● Transfers delivery operations to parent office
● Retains retail window operations
● Retains post office box operations
Participating USPS Districts
Capital, N New England, Alabama, Fort Worth and Central Plains
USPS New Delivery Unit Optimization Initiative To Streamline Post Office Operations
Clerk Division delegates discussed job security at their pre-convention conference on Aug. 21 and 22, debating resolutions and discussing officers' reports about issues affecting the craft.
"It's a tough time at the Postal Service this day and age," said Jim McCarthy, Clerk Craft Director.
On Saturday, delegates discussed resolutions, many of which focused on excessing. The relocation of employees in the craft has been a major point of contention between the Postal Service and the APWU.
"There's no question in my mind, the days of being comfortable in your job are over," said Rob Strunk, Assistant Director of the Clerk Division.
Strunk said every clerk craft member is concerned about the future of their work, "whether it's keeping a job, being excessed to another installation," or changes to the no-layoff clause. "It's a tough struggle," he said.
Assistant Director Pat Williams said many clerks are being excessed because of the elimination of Tour 2 and new machinery. "Employees are being sent to other tours, other facilities, and other crafts," such as mail handler and letter carrier positions.
Sunday's session was an "open forum" at which delegates addressed topics that will be discussed in upcoming contract negotiations, including job postings and bidding, the no-layoff clause, and training and testing.
"The convention is a great opportunity for union negotiators to hear directly from the members who are directly affected by the contract," said Assistant Director Mike Morris.
more Delegates Take to the Streets: Save Saturday Service!.