Good at getting along with the guys working alongside her, Diane Caruso-Ruston said she thought she was going to get a promotion when she walked into one of her managers' offices. "Next thing I know he pushes me up against the wall. And he pushes down my left side of my pants, you know those stretchy pants? He licked my leg. I got startled. And then he took his thing out and told me to kiss it."
OMAHA, Neb. – 11.21.14 – It's about to get even busier at the post office. Thousands of holiday packages are moving through the postal service and inspectors know some of them will contain pot.
APWU Press Release:
11/13/2014 Postmaster General Patrick Donahoe and the USPS Board of Governors, the board that oversees the U.S. Postal Service, are poised to make devastating cuts in service to the American people – cuts so severe that they would forever damage the U.S. Postal Service.
On Jan. 5, the USPS is slated to lower "service standards" to virtually eliminate overnight delivery – including first-class mail from one address to another within the same city or town.
All mail (medicine, online purchases, local newspapers, newsletters of religious organizations, bill payments, letters and invitations) throughout the country would be delayed.
Beginning Jan. 5, 82 Mail Processing & Distribution Centers are scheduled to close.
On Nov. 14 postal workers will protest at 150 locations as part of a National Day of Action to send a message to Postmaster General and the USPS Board of Governors: Stop Delaying America's Mail! 
The cuts would cause hardships for the public and small businesses, eliminate jobs, and destroy the world's most efficient and affordable delivery network by driving away mail and revenue. They are part of the same flawed strategy that's behind efforts to end Saturday and door-to-door deliveries, cut back post office hours, and make other reductions in mail service.
The travesty is that the cuts are absolutely unnecessary – because postal operations are profitable. The Postal Service, which isn't funded by taxpayers, has earned an operating profit so far this year of more than $1 billion. And, while revenue from First Class Mail has been declining, package delivery, largely due to the growth of e-commerce, has been rapidly expanding.
There is red ink, but it stems from political interference, not from the mail. In 2006, a lame-duck Congress mandated that the Postal Service pre-fund future retiree health benefits 75 years in advance – something no other public agency or private firm is required to do. That costs the Postal Service $5.6 billion a year – and that's the red ink.
Fifty-one senators and 160 House members have called for a one-year moratorium on the reduction in service and the closure of the mail processing centers to allow Congress time to enact postal legislation that would improve, not degrade, postal service. The Postmaster General and USPS Board of Governors should honor their request.
For more information, visit www.StopMailDelays.org or https://www.facebook.com/stopdelayingamericasmail.
– See more at: http://www.apwu.org/news/press-release/us-postal-service-poised-make-devastating-cuts-service-postal-workers-delive
Closure of Collins Road processing facility to hurt Lansing economy
(November 13, 2014) – LANSING – State Representatives Andy Schor (D-Lansing) and Tom Cochran (D-Mason) today called for immediate action to stop the closing of the Lansing United States Postal Service mail processing and distribution center.
"This change being pushed by the Postmaster General needs to consider the effects on the local Lansing economy," Schor said. "To close the Lansing facility next year would move 160 jobs and would delay mail delivery for residents and businesses, which would have an adverse impact on the local economy."
"Closing the Collins Road post office would mean longer delivery times and fewer jobs for Lansing area families and would result in significant consequences for people and business in the region," Rep. Tom Cochran (D-Mason), a member of the House Capitol Caucus, said. "The effects that would follow from this decision should be more carefully assessed before further action is taken."
Postal workers in Lansing will be at the Michigan State Capitol on Friday, Nov. 14, from 4 to 6 p.m. to send a message to the Postmaster General and USPS to stop the closings. Opponents of the closings say that all mail, including medicine and bill payments, will be delayed, and e-commerce, which relies on speedy deliveries, would be impacted for a loss.
"It is disappointing that the Postmaster General is making this move without Congressional action, and the moratorium needs to be in place until our elected members of Congress weigh in," Schor said. "I am calling on the Postmaster General and the USPS to postpone this decision while awaiting congressional action and while exploring the negative impacts on the local Lansing economy."
Schor has introduced HR 0022 of 2013, which is co-sponsored by the bi-partisan Capitol Caucus. This resolution asks the U.S. Congress to halt the closure of the Collins Road facility until postal reform legislation can be addressed at the federal level
The APWU Oakland Local #78 took the unusual step of launching an office-wide petition against Tour 1 Postal Supervisor Preet Singh. The petition, which has more than 100 signatures, details years of a variety of unacceptable conduct. The petition was sent to Postmaster General Patrick Donahoe, USPS Bay-Valley District Manager,Mark Martinez, California Congresswoman Barbara Lee (D-13th) and the USPS Office Of Inspector General (OIG).
Oakland APWU Local Strikes Back at Abusive Postal Supervisor
With negotiations for a new contract set to begin on Feb. 19, 2015, it's worth noting that in the past, when talks have ended in arbitration, the #USPS has used the anti-union law firm Morgan, Lewis & Bockius to represent management's interests.
The firm, which has more than 1,400 attorneys in 25 offices, is considered one of the leading #union-busting law firms in the country.
It has a long history fighting workers. When former President Ronald Reagan fired striking Air Traffic Controllers in 1981, Morgan Lewis served as the FAA's (Federal Aviation Administration) attorneys. The strike was a major defeat for labor; PATCO, the Professional Air Traffic Controllers union, was disbanded soon after.
Read more: The Postal Service's Union-Busting Law Firm 
During the Fiscal Year (FY) 2014 Information Technology Internal Controls audit, the U.S. Postal Service Office of Inspector General (OIG) became aware of a hardware failure that resulted in the loss of the Computer Incident Response Team (CIRT) database used to record and monitor computer incidents.
The U.S. Postal Service's Data Management Services group periodically performs off-site backups for hundreds of critical databases. However, there are other essential databases that are not classified as critical2 that are used for daily functions. These functions include analysis of historical data and maintaining records for compliance with existing security policy.3 We are issuing this alert to make the Postal Service aware of the need to modify its current backup and storage requirements to ensure that essential, but not critical, data is available.
The Postal Service did not ensure all database backups were being stored on separate hardware. Specifically, the CIRT database was lost due to a hardware failure and the data was not recovered due to the absence of a backup on a separate piece of hardware. As a result, this database was not available to perform historical analyses and the Postal Service could not comply with security policy. Although the Postal Service took immediate corrective action for this database by implementing backup procedures on separate hardware, there may be other unidentified databases that are not backed up on separate hardware that could result in a loss of data and the inability to comply with record maintenance requirements.
Backup and Recovery
The Postal Service maintained an essential CIRT database and backed up a copy of the database on the same hardware. On April 4, 2014, a hardware failure occurred that made the original database and the backup of the database inaccessible. 4 As a result, the database was not available to perform analyses of computer incidents that would enable management to more effectively monitor and resolve new incidents in a timely manner. In addition, the Postal Service could not maintain an electronic incident repository.
Although management responded swiftly and took corrective action by updating and implementing backup procedures for a new CIRT database using the5 application, there may be other essential databases used by other groups that are not backed up on separate hardware. The practice of backing up data on the same hardware could result in the loss of essential data, increased workhours to recreate the databases, and an inability to perform analyses in the event of hardware failure.
Currently, the Postal Service's security standards6 state critical information resources must be stored off-site at a location that is not subject to the same threats as the original media, but does not prohibit the practice of using the same hardware to maintain and back up noncritical information resources. If the standards were updated, database owners would need to review and possibly modify their backup procedures, thereby ensuring information resources can be restored in a timely manner in the event of a hardware failure.
Recommendations
We recommend the manager, Corporate Information Security:
1. Expand existing procedures in Handbook AS-805, Information Security, to prohibit the practice of using the same hardware to maintain and back up noncritical information resources.
2. Issue a reminder that data backups are to be maintained in an appropriate location to reduce potential loss, damage, or misuse of essential data.
read OIG report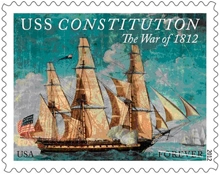 The Postal Service will honor America's oldest commissioned warship, the USS Constitution, with the issuance of 25 million Forever stamps Saturday, Aug. 18.
The War of 1812: USS Constitution stamps also commemorate the bicentennial of the War of 1812.
The first-day-of-issue ceremony will be at the Charleston Navy Yard in Boston, MA. The event will be open to the public and will take place next to the USS Constitution, nicknamed "Old Ironsides."
Starting Aug. 18, the new War of 1812: USS Constitution stamps can be purchased at Post Offices nationwide, online at usps.com/store and by phone at 800-STAMP-24 (800-782-6724).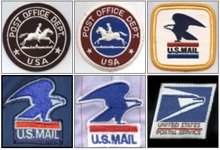 'Fly like an eagle'
In 1955, Former PMG Arthur E. Summerfield authorized the first emblem patch for uniforms worn by letter carriers. Employees were not required to wear them until 1957.
The original emblems were 3-inch circular patches with a backward (facing right) horse and rider that were worn on the left sleeves of shirts and coats.
The direction of the horse and rider was flipped to face forward in early 1965. The center background was changed to blue.
The eagle "seal" was adopted following passage of the Postal Reorganization Act in 1970 — the law that created USPS as an independent establishment of the government's executive branch. That same year, the 3-inch circular uniform patch was replaced by a 3 1/2-inch square one that featured an eagle facing left atop a red bar over the words "U.S. MAIL" and a blue bar underneath.
In 1990, the patch was redesigned to feature a blue eagle facing right atop a red bar, over the words "U.S. MAIL."
In 1995, USPS adopted a corporate logo that included the "sonic eagle" — often described as an eagle's head and beak leaning into the wind. The same year, USPS introduced a new patch, square-shaped and canted slightly to the right to simulate the impression of movement. Embroidered in black were the words "UNITED STATES" underlined by a thin red line and followed by the words "POSTAL SERVICE."
The 1995 patch still is in use today.