The APWU Oakland Local #78 took the unusual step of launching an office-wide petition against Tour 1 Postal Supervisor Preet Singh. The petition, which has more than 100 signatures, details years of a variety of unacceptable conduct. The petition was sent to Postmaster General Patrick Donahoe, USPS Bay-Valley District Manager,Mark Martinez, California Congresswoman Barbara Lee (D-13th) and the USPS Office Of Inspector General (OIG).
Oakland APWU Local Strikes Back at Abusive Postal Supervisor
With negotiations for a new contract set to begin on Feb. 19, 2015, it's worth noting that in the past, when talks have ended in arbitration, the #USPS has used the anti-union law firm Morgan, Lewis & Bockius to represent management's interests.
The firm, which has more than 1,400 attorneys in 25 offices, is considered one of the leading #union-busting law firms in the country.
It has a long history fighting workers. When former President Ronald Reagan fired striking Air Traffic Controllers in 1981, Morgan Lewis served as the FAA's (Federal Aviation Administration) attorneys. The strike was a major defeat for labor; PATCO, the Professional Air Traffic Controllers union, was disbanded soon after.
Read more: The Postal Service's Union-Busting Law Firm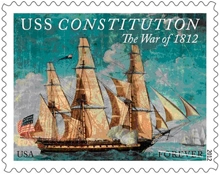 The Postal Service will honor America's oldest commissioned warship, the USS Constitution, with the issuance of 25 million Forever stamps Saturday, Aug. 18.
The War of 1812: USS Constitution stamps also commemorate the bicentennial of the War of 1812.
The first-day-of-issue ceremony will be at the Charleston Navy Yard in Boston, MA. The event will be open to the public and will take place next to the USS Constitution, nicknamed "Old Ironsides."
Starting Aug. 18, the new War of 1812: USS Constitution stamps can be purchased at Post Offices nationwide, online at usps.com/store and by phone at 800-STAMP-24 (800-782-6724).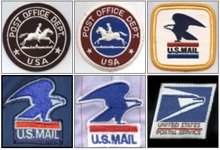 'Fly like an eagle'
In 1955, Former PMG Arthur E. Summerfield authorized the first emblem patch for uniforms worn by letter carriers. Employees were not required to wear them until 1957.
The original emblems were 3-inch circular patches with a backward (facing right) horse and rider that were worn on the left sleeves of shirts and coats.
The direction of the horse and rider was flipped to face forward in early 1965. The center background was changed to blue.
The eagle "seal" was adopted following passage of the Postal Reorganization Act in 1970 — the law that created USPS as an independent establishment of the government's executive branch. That same year, the 3-inch circular uniform patch was replaced by a 3 1/2-inch square one that featured an eagle facing left atop a red bar over the words "U.S. MAIL" and a blue bar underneath.
In 1990, the patch was redesigned to feature a blue eagle facing right atop a red bar, over the words "U.S. MAIL."
In 1995, USPS adopted a corporate logo that included the "sonic eagle" — often described as an eagle's head and beak leaning into the wind. The same year, USPS introduced a new patch, square-shaped and canted slightly to the right to simulate the impression of movement. Embroidered in black were the words "UNITED STATES" underlined by a thin red line and followed by the words "POSTAL SERVICE."
The 1995 patch still is in use today.
'Moving in the right direction'
In his latest video, PMG Pat Donahoe describes the positive steps employees are taking to address the quarter 3 (Q3) operating loss and move the Postal Service forward.
The PMG notes that in Q3 employees received the highest service performance scores ever for First-Class Mail, both single-piece and commercial, and for Standard Mail, Periodicals and packages.
"When you take a look at what's actually being measured and reported, we're talking about 6 billion pieces of mail that have an end-to-end score," says Donahoe.
DPMG Ron Stroman is helping see this strong performance carries over to customer service during his visits to facilities throughout the country. "Ron is leading the charge to work on the whole customer experience issue," says Donahoe. "I think that we'll be making some big strides."
Service performance will be particularly important in the coming months as USPS continues to grow its package business — where it already has made excellent strides. USPS also will be handling election season mail and has set a goal of generating a half-billion dollars in revenue from Election and Political Campaign mail. "That's nearly 50 percent growth over where we were last time," he says.
Donahoe thanks employees for achieving the all-time high service scores in Q3. "Keep up the great work," he encourages employees. "Keep serving the customers well."
source: USPS News Link
Create and send perfectly personalized cards directly to someone's mailbox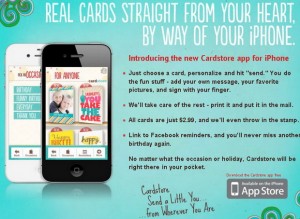 CLEVELAND, Aug. 9, 2012 /PRNewswire/ — Finding the perfect time and place to personalize and send a real greeting card just became easier through the convenient Cardstore Mobile app for iPhone and iPad. Cardstore, the popular "perfectly personalized" greeting card website from the American Greetings Corporation (NYSE: AM) family of brands, has now added a mobile app to its list of card sending options.
Developed by the team at American Greetings who launched the innovative justWink app, which has already achieved more than a million downloads in its first year, the Cardstore Mobile app provides consumers with the ability to select from nearly one hundred card designs, personalize, and send the perfect message straight from the heart to the recipient's real mailbox. Since being released about one month ago, the app has already received top-notch ratings and reviews from consumers. The free app can be easily downloaded on Cardstore.com or through the iTunes App store. There are plans to release the app to Android users later this year.
Along with the ability to choose between card designs from favorite artists, the new app offers great personalization features such as adding signatures and photos to cards as well as Facebook-powered birthday reminders. Cards cost $2.99 each and the personalized card creation will then brighten a lucky recipient's mailbox within 3-5 business days (7-15 days internationally). Read more
The Postal Service ended its third fiscal quarter (April 1 – June 30) with a net loss of $5.2 billion, compared to a net loss of $3.1 billion for the same period last year.
Contributing significantly to the loss was $3.1 billion of expenses for the legislatively mandated prefunding of retiree health care plan. Despite positive news such as the 9 percent increase in revenue from shipping services and package delivery, losses are expected to continue until legislative changes are made in line with the Postal Service Business Plan to return to financial stability.
These changes include:
Refund of $11 billion of pension plan overfunding.
Transition to five-day delivery.
Elimination of prefunding retiree benefits and the introduction of a postal health insurance program independent of federal programs.
"Moving forward with our business plan will make the Postal Service financially self-sustaining, provide a platform for future growth and preserve our mission to provide secure, reliable and affordable universal delivery services for generations to come," said PMG Pat Donahoe.