POSTAL SERVICE VENDOR SENTENCED TO NINE MONTHS IN FEDERAL PRISON FOR FRAUD SCHEME INVOLVING TRUCK WASHING SOAP
CHICAGO — A former salesman for a postal service vendor was sentenced to nine months in federal prison for intentionally dumping truck wash soap, which is used to wash postal vehicles, down sewer drains, causing the United States Postal Service to purchase more truck wash soap than it needed, federal law enforcement officials announced today. The defendant, Nicholas Peregonow, who was a salesman for a company in Elgin, benefitted by receiving increased commissions on his sales of truck wash soap to the Postal Service.
Peregonow, 67, of Wood Dale, was ordered to begin serving his sentence July 31. He was also ordered to serve five months in home confinement after he is released from custody during two years of supervised release, and to pay restitution of $102,510 to the Postal Service, representing the value of the soap that was dumped. U.S. District Judge Sharon Johnson Coleman imposed the sentence on June 19 in U.S. District Court in Chicago.
Peregonow was charged in December 2010, and pleaded guilty in January 2012 to two counts of mail fraud and one count of theft of government funds based on the fraud scheme.
"The majority of contractors provide support to the Postal Service in a professional manner. However, the U.S. Postal Service Office of Inspector General's Major Fraud Investigations Division aggressively investigates instances like these where the public trust has been violated through fraudulent activity," said Joanne Yarbrough, Special Agent-in-Charge of Postal Service Office of Inspector General's Major Fraud Investigations Division.
"Dumping soap into sewer systems can damage expensive treatment equipment and sicken or kill fish and wildlife that come in contact with the discharged waters," said Randall Ashe, Special Agent-in-Charge of the Environmental Protection Agency's Criminal Enforcement Program Office in Illinois, which assisted in the investigation.
Law enforcement officials were contacted after a truck driver witnessed Peregonow dumping soap down a drain in an area near the main Postal Service facility in Chicago where large Postal Service vehicles are washed and soap containers are stored. Peregonow was in charge of providing soap to the Postal Service under a contract between the Postal Service and his employer. According to the indictment, several times per month over at least a nine-month period between October 2009 and June 2010, Peregonow opened valves on 270-gallon soap containers and allowed soap to flow down the drain. As a result, the Postal Service purchased much more soap from Peregonow than it needed, and Peregonow personally benefitted from the commissions he earned on soap sales.
The government was represented by Special Assistant United States Attorney Stephen Rotter.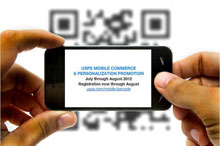 The Postal Service's 2012 Mobile Commerce and Personalization Promotion starts July 1 and runs through Aug. 31.
Business mailers will receive an upfront 2-percent postage discount on Standard Mail and First-Class Mail letters, flats, and cards (presort and automation only) that include a two-dimensional (2-D) barcode or print/mobile technology which can be read or scanned by a mobile device.
This is the first time meter mailers are eligible to participate in an upfront postage discount promotion. In order to qualify, mailers must affix a postage amount as specified by the Postal Service during this promotion. Click here for the various incentive postage amounts for metered mail.
Qualifying mailpieces that bear postage with the promotional amounts should not be mistaken for, or returned as, "shortpaid."
For more information, visit the Mobile Commerce and Personalization Promotion site.
source: USPS News Link
CHARLESTON, W.Va. – U.S. Attorney Booth Goodwin announced today that a Mingo County woman pleaded guilty in federal court to misappropriating postal funds. Kristen K. Maynard, 29, of Delbarton, Mingo County, W.Va., admitted that over a six-month period in 2011, she took more than $25,000 in cash from the United States Post Office in Alkol, Lincoln County, W.Va. Maynard was an officer in charge at the Alkol Post Office at the time she committed the federal felony.
Maynard admitted that during the embezzlement scheme, she took cash that the office received from the sales of stamps and postal money orders and used it to pay personal bills and gambling debts. Maynard further admitted that she manipulated the books and records in the office to cover up her thefts.
Maynard faces up to 10 years in prison and a $250,000 fine when she is sentenced on October 1, 2012 by United States District Judge Thomas E. Johnston.
The United States Postal Inspection Service conducted the investigation. Assistant United States Attorney Larry Ellis is in charge of the prosecutio
USPS has made its final decision concerning changes to pay and benefits for supervisory and managerial employees. The changes cover the period 2011–2015.
The decision follows completion of the pay consultation process with the National Association of Postal Supervisors (NAPS). It includes the June 14, 2012 recommendations from a neutral fact-finding panel and complies with the Postal Service's statutory obligations regarding the formulation and implementation of pay policies.
Employees represented by NAPS will not receive salary increases for fiscal year 2011 or 2012. The Postal Service will evaluate economic conditions in determining whether to increase pay in FY 2013.
Over the term of the pay package, employees represented by NAPS will pay a greater share toward their health insurance premiums. The Postal Service also reduced the amount of annual and sick leave employees represented by NAPS who are hired from outside the Postal Service can earn.
NAPS represents approximately 30,000 field Executive Administrative Schedule (EAS) supervisory and managerial employees who work in mail processing, retail and delivery operations and in some administrative positions. NAPS does not represent EAS employees who work at or report to headquarters or area offices.
The consultation process is not collective bargaining. However, the pay consultation process outlined in federal law provides NAPS with a voice in programs that relate to field supervisory and managerial employees.
The consultation process requires the Postal Service to work with the management associations to resolve any differences concerning changes in pay policies and schedules as well as fringe benefits programs proposed by the Postal Service. However, USPS makes the final decision.
Washington, DC – The Postal Regulatory Commission (Commission) today denied a Motion from the American Postal Workers Union (APWU) requesting an Emergency Order preventing the Postal Service from implementing changes in service standards until after the Commission has issued a final ruling on an APWU Complaint filed on June 12, 2012.
The underlying APWU Complaint is still before the Commission, and the Postal Service response to the Complaint is due by July 2, 2012.
In its Motion, APWU asked that the Commission issue its ruling on or before June 30, 2012. The Commission weighed the merits of APWU's arguments and is issuing its decision on the Motion promptly, before that date. Read more
Postal Service Plants Second Green Roof
Sows New Seeds of Sustainability
June 28, 2012
SYRACUSE, NY — The U.S. Postal Service today celebrated another example of environmental leadership as local officials joined a ribbon-cutting to announce a green roof atop the Colvin-Elmwood Post Office. The 11,300 square foot green roof will be built at no cost to the Postal Service through an innovative sustainability partnership with Onondaga County, NY.
"The Postal Service continues to lead the way when it comes to making a positive impact on the environment," said Chief Sustainability Officer, Thomas G. Day. "We're pleased to be collaborating with the good people of Onondaga County on our second green roof, which will help the Postal Service conserve water and energy in the Syracuse metropolitan area."
Working cooperatively with Onondaga County's Save the Rain initiative, the Colvin-Elmwood Post Office's roof was deemed structurally sound to support the additional weight of the soil, vegetation and other requirements of a green roof. The green roof will consist of a new membrane, layers of drainage sheet, mat, separation fabric, indigenous vegetation and a wind blanket. The green roof plan fits perfectly into the Postal Service's commitment to create sustainable spaces and facilities wherever possible.
The green roof also addresses practical concerns. The roof's expected lifespan is up to 50 years, twice as long as the roof it will replace. It also will reduce the amount of contaminants in storm water runoff flowing into Syracuse's municipal water system.
"At more than 11,000 square feet, the Colvin-Elmwood green roof will be one of the largest in New York," said Day. "The Colvin-Elmwood green roof will help us meet our goals to reduce energy usage 30 percent by 2015 and greenhouse gas emissions 20 percent by 2020."
The Colvin-Elmwood green roof is part of the Postal Service's greener facilities strategy, which includes the use of environmentally friendly building components, renewable materials, energy-efficient lighting and HVAC, low volatile organic compound parts, low-water use fixtures and solar photovoltaic systems. Read more
Contract Headed for Interest Arbitration
(June 27, 2012) Collective bargaining between the NPMHU and the Postal Service over the terms of the 2011 National Agreement has reached a new stage in the implementation of dispute resolution procedures adopted by the parties – that is, the parties have initiated the process for starting interest arbitration under Section 1207(c) of the Postal Reorganization Act (PRA), as amended in 2006.
The upcoming arbitration will be conducted under the supervision of a three-member panel, with a neutral arbitrator serving as chair of the panel. The parties are currently discussing selection of the neutral arbitrator; if no agreement is reached, the parties will ask the Federal Mediation and Conciliation Service (FMCS) to produce a list of potential arbitrators, and the parties will strike names from that list until one remains.
The arbitration phase of the dispute resolution process follows an attempt at mediation which proved unsuccessful. In March 2012, FMCS Director George Cohen announced the appointment of Herbert Fishgold as the mediator for the NPMHU/USPS dispute. Previously, Mr. Fishgold has served as a third-party neutral for more than 30 years, during which time he has mediated and arbitrated bargaining disputes in a wide range of industries at the national, state, and local levels.
Mediator Fishgold held several meetings with the parties and their representatives. Because he already was familiar with many of the basic facts and issues presented by the Postal Service, the mailing industry, and postal employees generally – based on, among other things, his service as an interest arbitrator in the 2006 dispute between the National Rural Letter Carriers Association and the Postal Service – Fishgold was able to jump into the mediation process quickly, without expending a lot of time and effort to familiarize himself with the unique industry that is the Postal Service. That also allowed the mediator and the parties to have frank discussions about their differences, and about possible ideas for narrowing or eliminating those differences.
While both parties held out hope for success during the mediation process, the success of that effort was more likely than not to depend on whether Congress acted timely to support the long-term financial well-being of the Postal Service as an ongoing institution and government agency. The current prospects for legislative action remain unclear, and that inaction certainly presented an obstacle to resolving the current bargaining dispute during mediation. The mediation effort continued for more than sixty days, and ultimately concluded when the parties determined that the process was unlikely to result in a negotiated settlement.
Several other factors also have come into play as the NPMHU dispute resolution process unfolds. First and foremost, the American Postal Workers Union and the Postal Service reached a comprehensive agreement in March 2011, and that agreement has been held out by some as a pattern or a baseline for future negotiations. Second, the National Association of Letter Carriers is also currently involved in interest arbitration, and has recently announced the selection of Arbitrator Shyam Das as the neutral arbitrator on that panel. Third, and perhaps of most importance, the Postal Service and the National Rural Letter Carriers Association have finalized their interest arbitration hearings, which began in December 2011, and are awaiting the decision from their panel, which is headed by Arbitrator Jack Clarke. The status of the bargaining agreements for our three sister postal unions clearly could have an effect on what is already an exceedingly complicated process regarding the NPMHU-USPS contract dispute.
With history as a guide, it likely will take several months to schedule, implement, and conduct the NPMHU arbitration process. To the extent possible, the National Office will keep all mail handlers informed of developments through the various modes of NPMHU communications, including monthly bulletins, Contract Updates, and website postings (at www.npmhu.org). Please continue to read these communications as they are distributed.
Richard S. Hartunian, United States Attorney for the Northern District of New York, announced that ANDREA LYNCH, age 30, of Clayton, N.Y., pled guilty today to the felony
offense of Misappropriation of Postal Funds, before the Hon. Glenn T. Suddaby in the United States District Court in Syracuse, New York. Sentencing for LYNCH is scheduled for November 9, 2012. As a result of the conviction, LYNCH is facing a term of imprisonment of up to ten years, followed by a term of supervised release of up to three years, a fine of up to $250,000, and a special assessment of $100.
LYNCH admitted that while working at the Theresa, Fishers Landing and LaFargeville Post Offices, she embezzled 231 money orders, totaling $51,161.51, without purchasing or processing any of the money orders through the St. Louis Federal Reserve, in violation of Title 18, United States Code, Section 1711. LYNCH admitted to using the money orders to support her heroin addiction.
The investigation of LYNCH began in August 2010, when Special Agents with the United States Postal Service, Office of Inspector General, reviewed records from the TheresaPost Office as a result of numerous money orders being processed after the date they were cashed.
This prosecution was handled in the United States Attorney's Office by Assistant U.S. Attorney Tamara B. Thomson.
source: U.S. Attorney's Office,  Northern District of New York
June 22, 2012
(Washington, D.C.) – In a letter sent today to the United States Postal Service, U.S. Senators Jeanne Shaheen (D-NH) and Kelly Ayotte (R-NH) expressed their concern over the nature of recent postal service changes at the town postal unit in Sugar Hill.
Sugar Hill residents recently learned that retail postal service at the unit would be reduced to a single half-hour per day and that some services would be eliminated. The reduction was announced through a poster on the building's front door, which told residents that the changes would be effective the very next day. Read more
WASHINGTON, D.C. (June 22, 2012) – On Monday, June 25, 2012 at 10:00 am et, Congressman Dennis Kucinich (D-OH) will host 10 postal activists from across the country as they kick off a hunger strike to protest a 2006 Congressional mandate to prefund retirement benefits for postal workers 75 years in advance. The mandate is considered by many to be one of the primary reasons the postal service is having financial difficulties.
When:  Monday, June 25, 2012
10:00 AM
Where: "House Triangle"
House side of the Capitol's East Front
What: Press Conference – "Hunger Strike to Save the Postal Service"
The activists are calling upon Postmaster General Patrick Donahoe to maintain delivery standards and suspend cuts and closures to the postal service while giving Congress an opportunity to repeal the 2006 prefund mandate.
According to Communities and Postal Workers United, the group organizing the hunger strike in Washington D.C., sympathetic hunger strikes will take place nationwide in Seattle, Olympia, Portland, San Francisco, Chicago, New York and Philadelphia.
The activists will gather in vigil from 8-9 am and every afternoon from 5 – 6:30 pm outside the Rayburn House Office Building on Independence Avenue.