HOUSTON – Kenton Deon Harrell, 41, Kenneth Shane Howard, 34, and Malcolm Derrail Williams, 32, have been handed their sentences following their convictions of conspiracy to interfere with commerce by robbery, announced U.S. Attorney Kenneth Magidson. A federal jury convicted Harrell following four days of trial and approximately three hours of deliberation in June 2014, while the other two had previously entered guilty pleas as did a fourth defendant – Charles Ray Blake, 41. All are from Houston.
Read more: Three Houston men head to prison for robbery of postal vehicle
The APWU Oakland Local #78 took the unusual step of launching an office-wide petition against Tour 1 Postal Supervisor Preet Singh. The petition, which has more than 100 signatures, details years of a variety of unacceptable conduct. The petition was sent to Postmaster General Patrick Donahoe, USPS Bay-Valley District Manager,Mark Martinez, California Congresswoman Barbara Lee (D-13th) and the USPS Office Of Inspector General (OIG).
Oakland APWU Local Strikes Back at Abusive Postal Supervisor
USPS Premier Offices will soon receive pre-packaged blank labels that customers can buy to print Click-N-Ship labels.
The labels are now sold online. The retail packs will give customers the option of purchasing the labels during visits to USPS Premier Offices.
Premier Offices to test selling Click-N-Ship labels
With negotiations for a new contract set to begin on Feb. 19, 2015, it's worth noting that in the past, when talks have ended in arbitration, the #USPS has used the anti-union law firm Morgan, Lewis & Bockius to represent management's interests.
The firm, which has more than 1,400 attorneys in 25 offices, is considered one of the leading #union-busting law firms in the country.
It has a long history fighting workers. When former President Ronald Reagan fired striking Air Traffic Controllers in 1981, Morgan Lewis served as the FAA's (Federal Aviation Administration) attorneys. The strike was a major defeat for labor; PATCO, the Professional Air Traffic Controllers union, was disbanded soon after.
Read more: The Postal Service's Union-Busting Law Firm 
The United States Postal Service is issuing a Request for Information (RFI) to evaluate the possibility of purchasing a new commercially available Right Hand Drive vehicle to supplement its existing fleet of light delivery vehicles. This would be a stop gap solution to meet Right Hand Drive vehicle requirements until the development of a purpose built Right Hand Drive vehicle can be accomplished. The Postal Service anticipates the need for up to 10,000 Right Hand Drive delivery vehicles to replace high maintenance cost Long Life Vehicles (LLVs) over the next two years. -
August 16, 2012) As announced at the 2012 NPMHU National Convention last week, after the parties were done striking names from a list provided by the U.S. Federal Mediation and Conciliation Service, FMCS Director George Cohen has appointed Herbert Fishgold as the arbitrator for the NPMHU/USPS bargaining dispute.  Mr. Fishgold is an arbitrator of nationwide reputation and professional stature, who is also a member of the National Academy of Arbitrators.  Indeed, Mr. Fishgold has served as a third-party neutral for more than thirty years, during which time he has mediated and arbitrated bargaining disputes in a wide range of industries at the national, state, and local levels.
Arbitrator Fishgold is generally familiar with many of the basic facts and issues presented by the Postal Service, the mailing industry, and postal employees generally – based on, among other things, his service as an interest arbitrator in the 2006 dispute between the National Rural Letter Carriers Association and the Postal Service.  And, Fishgold most recently served as the mediator in the last stage of the process to try and settle the NPMHU/USPS impasse.
The parties must now each select one additional member to serve on the three-person arbitration panel, and that process should be concluded shortly.
As the arbitration moves forward, the National Office will keep you updated, to the extent possible, during what is expected to be a lengthy arbitration process.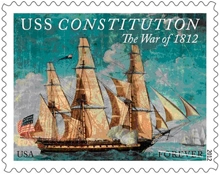 The Postal Service will honor America's oldest commissioned warship, the USS Constitution, with the issuance of 25 million Forever stamps Saturday, Aug. 18.
The War of 1812: USS Constitution stamps also commemorate the bicentennial of the War of 1812.
The first-day-of-issue ceremony will be at the Charleston Navy Yard in Boston, MA. The event will be open to the public and will take place next to the USS Constitution, nicknamed "Old Ironsides."
Starting Aug. 18, the new War of 1812: USS Constitution stamps can be purchased at Post Offices nationwide, online at usps.com/store and by phone at 800-STAMP-24 (800-782-6724).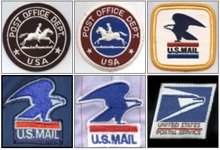 'Fly like an eagle'
In 1955, Former PMG Arthur E. Summerfield authorized the first emblem patch for uniforms worn by letter carriers. Employees were not required to wear them until 1957.
The original emblems were 3-inch circular patches with a backward (facing right) horse and rider that were worn on the left sleeves of shirts and coats.
The direction of the horse and rider was flipped to face forward in early 1965. The center background was changed to blue.
The eagle "seal" was adopted following passage of the Postal Reorganization Act in 1970 — the law that created USPS as an independent establishment of the government's executive branch. That same year, the 3-inch circular uniform patch was replaced by a 3 1/2-inch square one that featured an eagle facing left atop a red bar over the words "U.S. MAIL" and a blue bar underneath.
In 1990, the patch was redesigned to feature a blue eagle facing right atop a red bar, over the words "U.S. MAIL."
In 1995, USPS adopted a corporate logo that included the "sonic eagle" — often described as an eagle's head and beak leaning into the wind. The same year, USPS introduced a new patch, square-shaped and canted slightly to the right to simulate the impression of movement. Embroidered in black were the words "UNITED STATES" underlined by a thin red line and followed by the words "POSTAL SERVICE."
The 1995 patch still is in use today.
'Moving in the right direction'
In his latest video, PMG Pat Donahoe describes the positive steps employees are taking to address the quarter 3 (Q3) operating loss and move the Postal Service forward.
The PMG notes that in Q3 employees received the highest service performance scores ever for First-Class Mail, both single-piece and commercial, and for Standard Mail, Periodicals and packages.
"When you take a look at what's actually being measured and reported, we're talking about 6 billion pieces of mail that have an end-to-end score," says Donahoe.
DPMG Ron Stroman is helping see this strong performance carries over to customer service during his visits to facilities throughout the country. "Ron is leading the charge to work on the whole customer experience issue," says Donahoe. "I think that we'll be making some big strides."
Service performance will be particularly important in the coming months as USPS continues to grow its package business — where it already has made excellent strides. USPS also will be handling election season mail and has set a goal of generating a half-billion dollars in revenue from Election and Political Campaign mail. "That's nearly 50 percent growth over where we were last time," he says.
Donahoe thanks employees for achieving the all-time high service scores in Q3. "Keep up the great work," he encourages employees. "Keep serving the customers well."
source: USPS News Link