October 14, 2014 by
postal
·
Comments Off
Filed under:
APWU
,
contract
,
politics
,
post offices
,
postal
,
postal clerks
,
postal employees
,
postal managers
,
postal news
,
rural carriers
,
usps
With negotiations for a new contract set to begin on Feb. 19, 2015, it's worth noting that in the past, when talks have ended in arbitration, the #USPS has used the anti-union law firm Morgan, Lewis & Bockius to represent management's interests.
The firm, which has more than 1,400 attorneys in 25 offices, is considered one of the leading #union-busting law firms in the country.
It has a long history fighting workers. When former President Ronald Reagan fired striking Air Traffic Controllers in 1981, Morgan Lewis served as the FAA's (Federal Aviation Administration) attorneys. The strike was a major defeat for labor; PATCO, the Professional Air Traffic Controllers union, was disbanded soon after.
Read more: The Postal Service's Union-Busting Law Firm 
February 1 , 2012
OAKLAND, Calif. – Emmanuel Odion Esezobor was sentenced yesterday to 18 months in prison and ordered to pay $39,973.62 in restitution for stealing public money and passing counterfeit U.S. obligations, United States Attorney Melinda Haag announced.
Esezobor, 51 of Hayward, Calif., was convicted by a jury on Oct. 27, 2011, after a three-day trial on one count of theft of public money, in violation of 18 U.S.C. § 641, and seven counts of passing counterfeit U.S. obligations, in violation of 18 U.S.C. § 472.  During the trial, evidence showed that, in February and March 2011, Esezobor issued himself $13,800 worth of U.S. postal money orders and purported to pay for those money orders with counterfeit $100 bills.  The evidence further showed that Esezobor knew these bills were counterfeit and had passed similar counterfeit bills at his credit union in Hayward in November 2010.
The sentence was handed down by U.S. District Court Judge Claudia Wilken.  At sentencing, Judge Wilken found that the defendant stole a total amount of $43,500 from the Alamo Post Office.  As a result, she ordered restitution in the amount of $39,973.62, the remaining balance owed to the Alamo Post Office.  Judge Wilken also sentenced the defendant to a three-year period of supervised release.  The defendant will begin serving his sentence on March 13, 2012.
Esezobor was indicted by a federal grand jury on April 14, 2011.
Brian Lewis and Joshua Hill are the Assistant U.S. Attorneys who prosecuted the case with the assistance of Noble Hughes, Janice Pagsanjan, and Vanessa Vargas.  The prosecution is the result of a year-long investigation by the U.S. Postal Service Office of Inspector General and the U.S. Secret Service.
source: U.S. Attorney for Northern District of California
eReassign 21 Day Posting
The USPS Bay-Valley District released the following information
Clerk Craft Reassignment Opportunities
 The U.S. Postal Service and the American Postal Workers Union have agreed to provide expanded opportunities for clerk craft employees in installations in which there is clerk craft excessing outside of the installation. Full time clerks in those installations which have current impact on full time regular clerks (Traditional and Non Traditional Full Time) will be able to log in to the eReassign system and apply for the residual full time vacancies posted. A Full time clerk may apply for posted vacancies within their entire district, and to those residual vacancies posted in installations within 100 miles of their present installation.  To be able to view vacancies posted from other districts within 100 miles the FTR clerk must select the other districts. The posting will be open from the first day of the each month until the twenty-first day of each month. During the month the full time clerk may make selections in eReassign by entering the position they wish and the preference order for that selection. A preference order must be included. At midnight Central Time on the twenty-first day the system will lock in all selections. An employee may not withdraw or modify their selection after this time.
Read more
USPS Is Taking No Prisoners in Effort to Save Service?
Sam Wood,  APWU President, Southwest Florida Area Local via 21st Century Postal Worker:
During a meeting this evening with Clerks at the Fort Myers P&DC (concerning detailing Clerks to the Carrier Craft) which ended at about 6:40pm eastern time, USPS Labor Representative Joe Homolash from the Suncoast District informed employees that tomorrow the USPS Postmaster General will be announcing major changes (review of approximately 3,700 Post Offices, stations and branches).
In this meeting, it was made fully clear that the USPS will not be standing still and will begin "TAKING DRASTIC MEASURES" to save the Postal Service. In no way was he specific but it was made clear that the changes will go beyond the 3,700 Post Offices in other ways.
Reading into more of what Homolash stated in this meeting such as many more changes will be coming and they will be fast tracked, It is my opinion that management has no intention to follow any Postal Union's Collective Bargaining Agreement and will do whatever they want. As Homolash also stated, "They will deal with the ramifications later." It is also my belief that Plants could eventually be affected by potential closings or tour changes.
CLERKS BEING MOVED TO THE CARRIER CRAFT
Management stated that the details to the Carrier Craft would be on "30" day details. After pressing management on the issue, management stated that if they needed to detail these employees for a longer period then 30 days, they wouldn't have an option to come back. Management stated that the Suncoast District would not train more clerks to do this work, so they would force the employees to stay in the Carrier Craft. The Detailed Clerks would also be subject to discipline (including termination) if any Carrier Violations occurs. Essentially, these Clerk volunteers could in fact be stuck in the Carrier Craft and be constantly moved from station to station and be subjected to hours and days off changes.
Mandatory Stand-Up Talk – July 25, 2011 [pdf]
Ft. Myers P&DC DIRECT LINE – July 25, 2011 [pdf]
PostalReporter.com was asked to pass along the following information (note: conversion from doc to picture created by PostalReporter)
: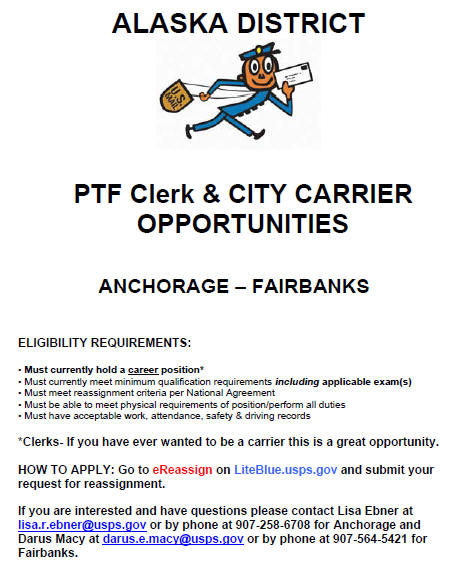 Despite pressure from the USPS to retire, that wasn't an option for Frank Facio, a 29 -year San Diego, CA Postal Employee and Delivery Bar Code Sorter (DBCS) machine clerk:
It is a challenge for every postal employee to run mail-processing machines safely and efficiently on a daily basis. For San Diego Area Local member Frank Facio, that task is more difficult.
That's because Facio, who operates a Delivery Bar Code Sorter (DBCS) machine at the Margaret Sellers Processing & Distribution Center, is blind.
"Many people ask how I can work at the Postal Service, being blind," Facio said. "I always answer with a joke: My job is licking stamps."
Facio was diagnosed with retinitis pigmentosa at age 17. When he began working as a Letter Sorting Machine operator in 1982, he still had his vision, but it was diminishing rapidly.
Despite pressure from the USPS to retire, that wasn't an option for Facio.With help from his local union reps, Facio was taken back on the workroom floor, and was shown the DBCS.
"As soon as I saw the machine, I was thinking, 'What do I need to do to modify this equipment to make it work for me,'" Facio said. "I knew immediately, this was going to be my job."
Finally, with some machine modifications Facio's DBCS and the racks that holds the mail trays were brailled – he was
speeding through the mail. He said his goal was to process more than 200,000 pieces of mail on Tour 2 – a feat he and his partner accomplished, processing 226,000 pieces one shift, and then proving it was not a fluke by processing 204,000 pieces the next day.
"No one thought I could do this job," Facio said, "but it was a big achievement for me. I proved that I could do this job – with no sight and a dog on the floor – just as well as anyone, and my numbers showed it."
source: The American Postal Worker Magazine
In 2005, PostalReporter.com posted a link to a news story about Frank Facio from the San Diego Union Tribune:

The transition from sight to blindness has been helped by Frank Facio's positive attitude about the challenges he faces. Undaunted, he and his guide dog, Gina, make the daily trek to work at the Carmel Valley Post Office.

When he first got his job at the post office in Phoenix, Facio already had RP, but he was still able to read addresses on letters. But over time, his work began to slow down, and he had switch departments.

But after transferring to San Diego, he found a home behind the stackers, where he's been since 1997. This is where Facio finds his rhythm.

Instead of getting depressed or feeling sorry for himself, Facio was determined to lead a normal life and make adjustments along the way.
The Postal Service notified the APWU on Dec. 23, 2010 [PDF], of plans to remove bullet-resistant glazing from some retail lobbies "in order to improve the customer experience" when a risk analysis supports removal.
The APWU opposes these plans, as we outlined in correspondence with the Postal Service dated Jan. 7, 2011 [PDF], and Jan. 26, 2011 [PDF].
Bullet-resistant glazing at counters in retail facilities is typically addressed at the local level.  However, because we received notice at the national level, the APWU believes the Postal Service may intend to remove bullet-resistant glazing on a wide scale.
First and foremost, we believe that security and safety of employees should come first and should be the primary purpose of any risk assessment.  Moreover, if the Postal Service is serious about improving the customer experience, they should start with restoring sufficient staffing at the counter to eliminate long lines and waiting time.
We are currently seeking information related to the USPS's plans, including identification of any impacted facility and a copy of risk assessments for retail facilities where bullet-resistant glazing at counter lines has been removed or may be considered for removal. In addition, we requested that in the event a decision is made to remove bullet-resistant glazing from retail facilities, the topic be placed on the agenda of National Joint Labor-Management Safety Committee prior to implementation to ensure full discussion.
We will keep you posted as more information becomes available.  An article about this issue appears in the January-March edition of the The American Postal Worker.
Three Postal Employees from the Post Office  in Locust Valley, New York  have been arrested and charged with stealing money while on the job.
According to the press release:
MINEOLA, NY – Nassau County District Attorney Kathleen Rice said that three United States Postal employees from the Locust Valley Post Office have been arrested and charged with stealing money while on the job.
John D. Klick, 52, of Greenvale; Roberto Bardales, 35, of Whitestone; and Warren Wojciechowski, 56, of Glen Cove, were arrested on January 20 and charged with one count each of Falsifying Business Records in the First Degree and Petit Larceny. All three defendants face up to four years in prison. Klick is due back in court on March 2 and Bardales and Wojciechowski are due back on March 3.
The arrests were made with the assistance of the United States Postal Service Office of Inspector General.
Rice said that the defendants stole money by ringing up customer purchase amounts that were less than the actual purchase price, also called "short-ringing." The defendants sometimes made no entry at all for a purchase and pocketed the cash.
Klick is alleged to have taken $166.80; Bardales is alleged to have taken $456.74 and Wojciechowski is alleged to have taken a total of $818.06 in cash.
Deputy Chief William Wallace of the Government & Consumer Frauds Bureau is prosecuting the cases for the DA's Office. John D. Klick is represented by Robert Schalk, Esq.; Roberto Bardales by Danielle Papa; and Warren Wojciechowski by Paul Berko, Esq
A $9,000 Rolex watch among items stolen from customers
A Homosassa Post Office worker was arrested on Jan. 27 following complaints from several postal patrons their property had been stolen or was missing.
The arrest wrapped up the investigation of three separate incidents reported to the Citrus County Sheriff's Office.
In one incident, a Sheriff's Office detective received a complaint from a woman on Jan. 5 that gift cars she had mailed to Illinois had been stolen. The woman also said that she later discovered the gift cards had been used, one of which was at the Inverness Wal-Mart. The other card was also used, but it is unknown where it was redeemed, the arrest report says.
On Jan. 12, a couple reported that a $9,000 Rolex watch they had mailed from a jewelry store using a post office service from Homosassa never arrived at its destination. The couple also produced receipts showing the watch was sent out and the watch insured for $4,000.
During the investigation, the Sheriff's Office was able to review a video of Riggeal placing items on a shelf next to her, then placing the packages in the trash can near her work station and then removing the packages from the trash.
full story: Citrus (Florida) Daily
Postal clerks will stop holding up the line with all those questions when you mail something.
Some questions will still be needed for security reasons, but clerks no longer have to run through a litany of whether each customer wants a return receipt or insurance or other special services.
It was like "Do you want fries that that?" Postmaster General Patrick R. Donahoe said Friday, and it wasted time and slowed lines.
"Lines at post offices are a major issue for me," Donahoe said at a briefing before being sworn in as the nation's 73rd postmaster general.
Donahoe said another step to easing the lines is encouraging people to do more postal business away from post offices, such as buying stamps online or at retailers.
Already, he said, about 35 percent of retail postal business is conducted outside of the agency's official offices.
Reductions will continue, said Donahoe, who is currently planning to cut 7,500 administrators and supervisors, or about 20 percent of the administrative staff.
via Associated Press
USPS Announces Changes To Mystery Shopper Program