"As background, the Service had taken a position (in National case Q98C4QC02005533) that they could ignore or waive the exam at their discretion (for example, in cases of excessing) yet maintain that minimum qualification requirement for members of the Maintenance Craft. As one example of the absurd situation this creates; current maintenance employees could not down grade or be promoted into custodial duty assignments because they were not qualified (in the USPS' position) due to not having the Test 916 on their record. Our position is the Service can't have it both ways, either waive the requirement for everyone or it must be enforced across the board and cannot be selectively waived." (APWU, 2007)
Here is the text of the letter from USPS:
June 25, 2010
MANAGERS, HUMAN RESOURCES (AREA)
SUBJECT: Suspending Examination Requirement for Custodial Jobs
Suspension of the examination requirement for custodial jobs was announced via Vice President Deborah Giannoni-Jackson's August 6, 2007, memorandum. The examination requirement was then extended to September 30,2010, by a subsequent September 4, 2008, memorandum. This suspension is being extended again, until September 30, 2011 . The reassignment of many career bargaining·unit employees has been greatly expedited by this temporary suspension, thereby supporting our efforts to deal with the impact of automation and changes in the postal business environment.
Career employees reassigned in accordance with Article 12 andlor moving voluntarily to custodial positions should not be given Examination 916, or be required to qualify during this suspension.
These employees must meet all requirements shown on the qualification standard for the position to which they are being reassigned, including satisfactory completion of any prescribed training. Districts may continue to use in-service custodial registers.
This suspension removes work from the process of placing employees into custodial positions to more rapidly make staffing changes in our work place.
Copy of Letter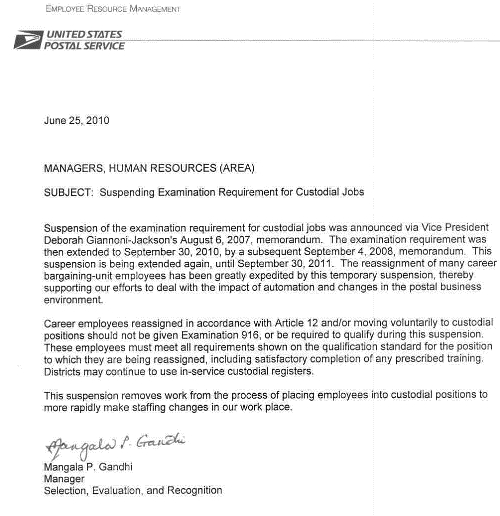 source: Gary Kloepfer, APWU, Maintenance Division