(November 28, 2014) There is probably one Voluntary Early Retirement (VER) offer for each area.  This special VERA appears to be for the mail processing plants scheduled to close in 2015.  There is no incentive. As a matter of general interest, HRSSC is sending special Voluntary Early Retirement (VER) opportunity letters to eligible employees
In the video Postmaster General says,"Targeted incentives and VER will be offered. Information now being finalized."
State of the Postal Service Postmaster General Pat Donahoe will have an update on network consolidation plans. And, he will recap plans for Post Offices in rural areas.
"As the PMG explained, with the May 15 moratorium now past, consolidation activities will start this summer. After a break from September through December for election and holiday mail seasons, this first phase will resume in January 2013. A second phase will then continue beginning in February of 2014 unless our circumstances change.
As a result, staffing adjustments will be necessary. Actions taken will comply with collective bargaining agreements, Postal Service regulations and policies, and other applicable law. At facilities where consolidation activity will move forward this summer, employees will receive additional notifications starting May 21."
As we heard in the video, the Postal Service is working with its unions regarding an employee incentive offer and will announce details when final decisions are made."
The Postal Service's announcement that there are no immediate plans to offer incentives or VERA to EAS employees will be received by some as a mixed message. We are aware that some EAS employees have been waiting for some time to take advantage of an incentive. On the other hand, there are other EAS employees who need to have a job, a job where they now work, close to their homes and families.
NAPS has been a leader the in the fight to keep processing facilities and post offices open to serve the American public. In this fight, we have been successful. As a result there will not be massive job losses in our ranks. NAPS believes that what we have accomplished is good for our members and good for our country.
Now that the Postal Service has determined there is no need to keep "landing spots" for impacted EAS employees, NAPS will emphasize the immediate need to fill vacant positions that exist throughout the country. We can no longer function with the number of vacancies we have in operations and these positions need to be filled now.
While we will be working to get vacant positions filled, and our members point to the postmasters who can take advantage of incentives and VERA's, all must be mindful that there are large numbers of postmasters that may not be able to take advantage of the incentives and will have to make the hard decisions on where they will be able to work after their restructuring.
Had the Postal Service implemented their plans to close half of the processing facilities in the country, there would have been hundreds if not thousands of EAS employees faced with the decision of moving great distances to keep a job. If the Postal Service's plans were initiated, our veterans would have been RIF'd because of the current rules on closure of competitive areas.
NAPS will continue our efforts to minimize the impact of the Postal Service's consolidation plans on our members now and in the future. We will continue to do everything in our power to protect the interests of our members.
USPS OIG: Employee Retirement Options -Management Advisory Report
WHY THE OIG DID THE AUDIT:
This report responds to a request from the postmaster general. The Postal Service is analyzing the options available for early retirement as it looks to reduce the size of its workforce. Our objective was to evaluate and describe information on retirement options, including those options that currently exist and those that may become available as part of new legislation or other Postal Service initiatives.
Employees have many factors to consider when retiring. We summarized several retirement options to assist employees when considering retirement opportunities.
WHAT THE OIG FOUND:
In 2012, over 189,000 Postal Service employees will meet the age and service eligibility requirements for retiring with an immediate annuity. A number of retirement options may be available to employees in the near future as part of new legislation related to the Postal Service. There may be restrictions on how these options can be used and whether they can be combined or not. Proposed changes to health insurance benefits for employees and retirees, along with possible additional years of service credit proposed in legislation, may cause employees to evaluate retirement earlier than they otherwise might have.
The options described in this report include:
Voluntary early retirement.
 Cash buyouts.
 Additional years of service credit.
 Re-employment for annuitants.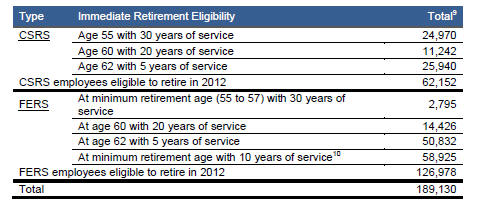 Full report
PMG Requests OIG Audit on Postal Employees Retirement Options
On December 6, 2011, NAPUS President Bob Rapoza and League President Mark Strong met with Postmaster General Patrick Donahoe and agreed to re-open Postmaster pay talks. This agreement was reached in the midst of the selection of a fact-finding panel from a list of panelist received from the Federal Mediation and Conciliation Service. If no agreement is reached by the January 27, 2012 deadline, the fact-finding process will resume.
Presidents of both Postmaster organizations continue to meet with postal leaders to request the establishment of a RIF-avoidance process that offers VER's and incentives (including adding years of service) for retirement eligible employees. Every effort is being made to get this issue resolved by the end of this year. Additional information will be posted on the NAPUS website as soon as it becomes available.
For more on these two developing stories, please check President Rapoza's Update.
NAPUS and League Presidents are scheduled to meet with legal counsel next week to continue discussions on how to proceed on renewing a complaint with the Postal Regulatory Commission concerning the Postal Service's Final Rule, which became effective on December 1, 2011.  The rule created changes to the PO-101, ASM, POM and ELM, which allows for the conversion of post offices to stations or branches. The rule also allows a post office to be staffed by someone other than a Postmaster and for Postmaster to serve in more than one post office.  See details and chronology of events concerning the Final Rule decision by linking to the December 2, 2011 Breaking News story on the NAPUS website.
On December 10, 2011 Postal Headquarters issued a letter to all Area Vice Presidents, directing them to temporarily suspend all current or planned actions to convert post offices to stations or branches, until further notice. The directive also instructed field managers to stop any permanent staffing changes in post offices until instructions are distributed by Headquarters.
Charlie Moser
December 9, 2011
source: NAPUS-  Discussions Continue with Postal Headquarters on Voluntary Early Retirements (VERs) and Incentives for Retirement Eligible Employees
Bay Valley District – No Retirement Incentive – Shared Services will be mailing VERA offer letters and annuity estimates from July 19-22, 2011 to VER eligible employees. The VER retirement application deadline and irrevocable date is August 26, 2011.
Alameda, Alamo, Antioch, Aptos, Benciia, Brentwood, Byron, Carmel, Clayton, Campbell, Capitola, Concord, Crockett, Cupertino, Danville, El Cerrito, Fairfield, Felton, Fremont, Gilroy, Hayward, Hollister, Lafayette, Livermore, Los Gatos, Marina, Martinez, Milpitas, Monterey, Moraga, Morgan Hill, Napa, Newark, Oakland, Oakland P & DC, Oakley, Orinda, Pacific Grove, Pebble Beach, Pinole, Pittsburg, Pleasanton, Richmond, Rio Vista, Rodeo, Saint Helena, SF NDC, Salinas, Salinas PDF, San Bautista, SAn Jose, San Jose, P & DC, San Leandro, San Lorenzo, San Ramon, Santa Clara, Santa Cruz, Saratoga, Seaside, Soquel, Suisun City, Union City, Vallejo, Walnut Creek, Watsonville, & District Customer Services Support
You may retire if you meet the age and swervice requirements shown below
Age 50 with 20 years of Service
Any age with 25 years of Service
Civil Service Retirement System ( CSRS): Your annuity benefit will be reduced by 2% for each year (1/6% per month) that you are under agfe 55 on datre of retirement and the reduction is permanent.
Federal Employee Retirement System (FERS): If you meet the above requirements your annuity benefit will not be reduced with age. Special Retirement Supplements are payable until age 62 when you reach the minimum retirement age(55-57). Social Secuity benefits begin when you reachg age 62.
Shared Services will be mailing VERA offer letters and annuity estimates from July 19-22, 2011 to VER-eligble employees. The VER retirement application deadline and irrevocable date is August 26, 2011. One Important thing to note is that you must follow the process in your letter to opt in and take advantage of this early out. If you participate in the VER, your retirement effective date will be August 31, or Septmener 30, 2011.
The VER is a part of Pacific Area efforts to streamline operations, increase effienciencies and reduce costs in support of the Postal Services's action plan to ensure a strong, viable orgnaization now and in the future.
Dates for retirement seminars will be announced soon.
Maybe. The minuscule pay increases; the back-loaded, waived and deferred COLAs; the lower starting salaries for future employees; the increases in employees' share of contributions toward healthcare coverage; the retention of the no layoff clause and the return of many jobs to APWU employees could save the USPS billions of dollars in operations costs, which could possibly preserve APWU craft employees jobs for years. The new Non-Traditional Full-Time duty assignments and the new Postal Support Employee work force would give the USPS more flexibility in adopting employees' work schedules that would fit their business needs.
All APWU members will be mailed a copy of the Tentative Agreement and a ratification ballot to vote yes or no on April 8, 2011. The ballot must be returned to APWU Headquarters by May 10, 2011. The Choice is Yours!
Show US the Money-If You Want US To Go!
So far, although rumors are saying the opposite, there has been no official announcement indicating that bargaining unit employees will receive retirement incentives.
Fredric Jacobs
President
APWU Oakland Local #78
PostalReporter.com note:A reliable source provided the following info..
At the briefing I attended, two national officers told me privately that a VERA for APWU members was certain if this contract passes. They didn't know what incentive the USPS would offer. It seems to me that a VERA following approval of this contract should be made public. A lot more senior employees would vote Yes on this contract if they knew.
Readers must keep in mind there has been no official announcement of any VER  offer to craft employees. But if you are thinking about retiring  soon be prepared to take it.
As the USPS organizational redesign moves forward, employees must be aware of key dates that may require action or that may signify important elements of the process.
The first critical date is the opt-in deadline for the Special Incentive Offer for eligible employees, as described in the Incentive FAQs. All eligible employees who can leave under the voluntary early retirement (VER) — as well as optional retirement-eligible employees (those who have reached their maximum retirement age) who wish to voluntarily resign — must notify USPS of their decision no later than April 25, 2011.
VER-eligible employees should review the Annuity Estimate and VER Offer Letter they received in the mail. To take advantage of the offer, employees should complete and return the "Acknowledgement of Irrevocability of Voluntary Early Retirement Decision" and also the "Application for Immediate Retirement," with signatures, as soon as possible. The documents must be received at the Human Resources Shared Services Center (HRSSC) no later than 8:30 p.m. EDT on April 25.
Employees who are optionally eligible to retire and who also want to take advantage of the Special Incentive Offer must begin the retirement process using eRetire on LiteBlue no later than 8:30 p.m. EDT on April 25. Signed paperwork is not required from optionally-eligible employees prior to April 25 in order to receive the Special Incentive Offer.
To take advantage of the Special Incentive Offer through the voluntary resignation process, employees must complete and submit to HRSSC Form PS 2574, Resignation From the Postal Service. HRSSC must receive this form no later than 8:30 p.m. EDT April 25.
For all redesign information — including timelines, FAQs and additional guidance — visit the Organizational Changes website on Blue and LiteBlue
PMG ANNOUNCES REDESIGNED POSTAL SERVICE
VOLUNTARY EARLY RETIREMENT, INCENTIVE PROGRAMS OFFERED
Postmaster General Pat Donahoe today announced a newly redesigned Postal Service, one that is better positioned for growth, reflects further alignment within the organization to achieve core business strategies and, when fully implemented by March, 2012, will eliminate almost $750 million in costs to the organization.
"Over the past 8 weeks, we have been taking a careful look at our internal structure — the way we position our people — and determining the best way to align the organization to succeed in a more competitive world," said Donahoe. "We also have been making some tough but necessary decisions that will enable us to better meet the needs of our employees, our customers and the American public."
Donahoe said a strong plan has been developed that will result in a leaner, less bureaucratic structure that creates greater efficiencies among managerial and administrative functions.
The announced redesign reduces administrative layers and achieves a 20 percent reduction in authorized administrative office complement and Postal Career Executive Service (PCES) positions.
Seven districts will be closing. A general announcement identifying the districts will be made March 24, after employees in those districts are notified.
Voluntary Early Retirement (VER) and financial incentive programs will be offered to eligible career non-bargaining employees in targeted groups at Headquarters, Headquarters-related Field Units, Area Offices and Customer Service District Offices (Administrative).
The incentive program is $20,000 and is offered on a first come, first-served basis to eligible employees who choose to leave on the May 31, 2011, effective date through a VER, optional retirement or voluntary resignation. The incentive will be paid in two equal payments of $10,000 distributed in November 2011 and November 2012.
To be eligible for the incentive, employees must begin the optional retirement process or submit voluntary resignation by the deadline of April 25, 2011. The same date, April 25, also is the irrevocability date for employees who accept the VER offer.
Disability retirements and Federal Transfers are not eligible for the incentive. Employees in a probationary status as of March 23, 2011, are not eligible.
Employees already in progress as of March 23, 2011, for optional retirement or voluntary resignation with a scheduled retirement or separation date on or before May 31, 2011, will be permitted to retire or separate on the scheduled date and be eligible for the incentive.
Further details of the VER and incentive programs will be available on the Organizational Change website.
Donahoe said employees will be given comprehensive information to help them make the best decisions about their future. "I know change can be challenging," he said. "I thank all of our employees for their continued dedication and focus on continuing to provide high levels of customer service while the organizational redesign proceeds."
Efforts in the coming weeks and months will help the Postal Service become a leaner, faster and smarter organization, Donahoe said. "The redesign will improve our financial situation, ensure that we are better able to compete for customers, and provide greater value and service to the American public."
source: USPS Press Release
USPS Organization Changes FAQs 2011
USPS is expected to announce that it will offer Voluntary Early Retirement to select groups of postal employees on March 25, 2011.
PREPARING FOR CHANGE  – VERA RULES OF THE ROAD
So what's a VERA?
A "voluntary early retirement authority" (VERA) temporarily lowers age and service requirements for retirement. It's an administrative tool USPS has used in the past as part of an overall redesign or restructuring.
The Postal Service must request approval for a VERA from the Office of Personnel Management (OPM) before making an offer of early retirement to its employees. OPM approval also will include a period of time during which the option will remain available.
Employees covered by the Civil Service Retirement System (CSRS) or the Federal Employee Retirement System are eligible for voluntary early retirement if they are at least 50 years of age with 20 years or more of service, or any age with at least 25 years of service. A minimum of 5 years must be creditable civilian — not military — service. Employees may use their time in the military to meet the balance of service required for eligibility.
CSRS employees must have been employed under CSRS for at least 1 out of the last 2 years, but the service need not be continuous. Eligibility criteria for all employees must be met by the VERA retirement effective date.
If the Postal Service announces a voluntary early retirement (VER), and if your position is covered in the group receiving the offer and you meet eligibility requirements, a VERA Offer Letter and Annuity Estimate will be mailed to your address of record. To receive notifications in a timely fashion, make sure USPS has your current mailing address on file.
You can change or update your address by clicking on "Change of Address" in the Employee Apps – Quick Links section at the center of the LiteBlue home page.
VERA-eligible employees who decide to accept an early retirement offer can apply by completing and submitting the required documents by the deadline specified in the Offer Letter. Eligible employees who decide not to accept the offer don't have to do anything.
Click here for more information about VERA.