Despite aggressive management actions to increase revenue and reduce expenses, the fiscal year 2011 Integrated Financial Plan (IFP) results in an Operating Plan with a net loss of $6.4 billion and a cash shortfall of $2.7 billion. The 2011 IFP also includes a Capital Plan that commits $1.4 billion toward projects that focus mostly on supporting our basic infrastructure, and requires capital cash outlays of $1.3 billion in 2011.
Note that all references to years refer to fiscal years beginning October 1, and ending September 30.
After the recent economic recession, the FY2011 IFP is based on a slightly better economic outlook. It introduces new operational efficiencies and revenue initiatives to mitigate the impacts of the continuous volume loss in First Class Mail and the damage caused by the recession and diversion of communication to the internet. However, these efforts are not sufficient to bring the Postal Service to profitability in 2011. The Plan reflects an operating loss of $0.9 billion before the impact of the $5.5 billion Retiree Health Benefits (RHB) pre-funding payment and a net loss of $6.4 billion.
The Plan is based on a slow but continuous economic recovery helping to increase mail usage, the introduction of certain new and updated products, and an aggressive reduction of 49 million work hours.
Cash Flow and Debt

The net cash used to run the Postal Service during 2010 was $4.7 billion. This was driven by the net loss of $8.5 billion and the other items noted in the table. Note that we have excluded from all our cash balances approximately $200 million of restricted cash that has been collected by our Inspection Services unit, as it cannot be used for general operating purposes.
Total liquidity entering 2010 was $6.9 billion and consisted of $3.9 billion in cash and the statutory authority to increase debt by up to $3.0 billion. During 2010 we borrowed $1.8 billion of the $3 billion statutory limit and ended the year with a total debt balance of $12.0 billion. The end result for 2010 was a cash balance of $1.0 billion.
Based on a projected net loss of $6.4 billion for 2011 and expected capital cash outlays of $1.3 billion, the net cash to be used in operating the Postal Service during 2011 is estimated to be $6.7 billion. With a beginning cash balance of $1.0 billion plus $3.0 billion of borrowing authority, we expect to end the year with a cash shortfall of $2.7 billion, having reached our total borrowing limit of $15.0 billion.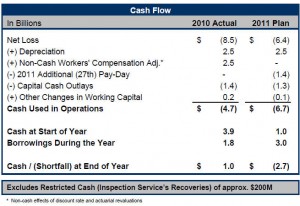 Conclusion
Despite major cost reductions and revenue initiatives, our financial projections show that we run out of cash at the end of 2011 thus jeopardizing our operations. Our number one priority is to meet our mission to deliver the mail. This must be achieved in a quality manner to serve the American public and to protect the value of the mail. Service problems caused by insufficient liquidity could irreparably harm the nation's postal infrastructure which is the center of a $1 trillion industry. We cannot risk this scenario, so we will continue to be more efficient, and we will continue to work with all of our stakeholders to affect structural changes to improve our financial condition. This includes such items as rationalizing the pre-funding of RHB, changing delivery frequency, increasing labor flexibility, and enhancing customer access. We will also continue to take actions to conserve cash which could include deferrals of certain large non-payroll obligations.