APWU Web News Article 91-2012, July 31, 2012
The Occupational Safety and Health Administration (OSHA) and the APWU are investigating the death of APWU member Steny Wing Hoi Yu, who died July 27 from injuries sustained in work-related accident at the Detroit NDC on July 23.
Although the investigation of the accident is still underway, reports indicate that Yu's injuries were the result of falling approximately 10 feet from a "fixed" ladder. Yu is reported to have been carrying a fire extinguisher up the ladder in an attempt to fight a fire.
The Detroit Metro Area Local is working closely with OSHA and the APWU to assist in the investigation.
"We are deeply saddened by this tragic accident," said APWU President Cliff Guffey. "We extend our deepest sympathies to Steny Wing Hoi Yu's family and co-workers."
Yu is survived by his wife, Syndia and two daughters, Yvonne and Angela.
APWU Web News Article 92-2012, July 31, 2012
The APWU and a retired union member have resolved a lawsuit against the Postal Service and an Accounting Services manager for violations of the Debt Collection Act, Industrial Relations Director Mike Morris has announced. The suit charged that the USPS and the manager routinely violated the rights of retired employees by instructing the Office of Personnel Management (OPM) to withhold a portion of the monthly annuities of retirees who had appealed Letters of Demand before they left the Postal Service.
Letters of Demand are issued when management alleges an employee is responsible for a financial loss to the Postal Service. The letters are subject to appeal through the grievance procedure and collection of alleged debts must be postponed until appeals have been exhausted. Read more
From the USPS Office Of Inspector General:
July 25, 2012
MEMORANDUM FOR: PATRICK R. DONAHOE – POSTMASTER GENERAL
David C. Williams – Inspector General
This memorandum provides the U.S. Postal Service Office of Inspector General's (OIG) review of U.S. Postal Service liquidity projections as of June 2012 (Project Number 12BD016FI000). Without legislation to eliminate or defer prefunding payments into the Retiree Health Benefits Fund, the U.S. Postal Service will likely default on the $11.1 billion in payments due in fiscal year (FY) 20121 and the $5.6 billion payment due in FY 2013. In addition to these defaults, the Postal Service projects an estimated $100 million cash shortfall on October 15, 2012, with a slow increase in liquidity from October through December 2012. Liquidity risks and shortfalls are projected to return in spring 2013 through October 2013, with the Postal Service projecting an estimated $1.2 billion cash shortfall in mid-October 2013.
These liquidity concerns exist even with the expected Postal Service default on the Retiree Health Benefits prefunding payments. To preserve its liquidity, the Postal Service presented the following additional measures for consideration: withhold employer contributions to the overfunded Federal Employees Retirement System (FERS) pension fund, and consider three different options for reimbursement of the U.S. Department of Labor (DOL) workers' compensation claims and administration costs. Read more
Business as usual
The Postal Service's decision not to make two payments to fund retiree health benefits — due Aug. 1 and Sept. 30 — will have no impact on employee pay or operations.
In a prepared statement, USPS said it will "continue to deliver the mail, pay our employees and suppliers and meet our other financial obligations."
The $5.5 billion payment due Aug. 1 and the $5.6 billion payment due Sept. 30 are required by the Postal Accountability and Enhancement Act, which became law in 2006.
The statement also said that the Postal Service is moving ahead with implementation of its strategic plan, adding "comprehensive postal legislation is needed in order to return the Postal Service to long-term financial stability." USPS says it "remains hopeful" a new law will be enacted during the current Congress.
via USPS News Link
WASHINGTON, July 30, 2012 /PRNewswire-USNewswire/ — The pending August 1st "default" of the U.S. Postal Service is not primarily the result of a bad market or even bad operations, but of bad legislating by Congress. The only thing that will happen on Wednesday is that the Postal Service will not pay $5.6 billion into a fund for futureretiree health benefits — a fund that already has $45 billion, enough to pay for decades of future retiree health care.
At the National Association of Letter Carriers (NALC), our two highest priorities are ensuring the long-term health of the Postal Service and protecting the well being of our country's active and retired letter carriers. If we thought our retired members were in danger of losing their health care, we'd be screaming bloody murder about it. But the retirees are fine and so is their health insurance. And on August 1st, the mail will continue to be delivered and employees will continue to be paid. Read more
The U.S. Postal Service will not make mandated prefunding retiree health benefit payments to the Treasury of $5.5 billion due Aug. 1, 2012 or the $5.6 billion payment due Sept. 30, absent legislation enacted by Congress. This action will have no material effect on the operations of the Postal Service. We will fully fund our operations, including our obligation to provide universal postal services to the American people. We will continue to deliver the mail, pay our employees and suppliers and meet our other financial obligations. Postal Service retirees and employees will also continue to receive their health benefits. Our customers can be confident in the continued regular operations of the Postal Service.
The Postal Service continues to implement its strategic plan. However, comprehensive postal legislation is needed to return the Postal Service to long-term financial stability. We remain hopeful that such legislation can be enacted during the current Congress.
The Postal Service receives no tax dollars for operating expenses and relies on the sale of postage, products and services to fund its operations.
USPS has scheduled a major software upgrade of its national financial system that will impact payments and reporting for a period from Aug. 9 through Aug. 27.  The software upgrade is scheduled to occur from the evening of Aug. 9 through Aug. 20. Catch-up processing will be performed from Aug. 20 through Aug. 27.
During the upgrade period, Finance will not be able to complete certain financial processes — including supplier payments, contract processing, employee travel reimbursements and some basic record-keeping activities.  Also, up-to-date reports normally available in the Accounting Project in the Enterprise Data Warehouse (EDW) will not be available until Aug. 28, after the upgrade and catch-up processing are completed.
Payroll processing and eFlash, also known as "Flash," reports are not affected by the upgrade. However, eTravel reimbursements will not be generated during the upgrade period. To avoid any delay in receiving reimbursement for official travel, file Travel Expense Reports in eTravel promptly.
Acting CFO Steve Masse said to lessen the risk of delayed payments, managers and supervisors should immediately certify and process invoices they receive up to Aug. 7. Employees also should assure suppliers that any payment delay is temporary and coordinate planned contract activities with Supply Management to avoid interruptions the upgrade may cause.
"Our goal is to minimize the impact of the upgrade on our internal stakeholders and our suppliers," said Masse. "Supply Management is notifying our supplier community about the upgrade and will explain the potential for short-term impacts to contract actions and payments."
via USPS News Link Story – Financial system upgrade.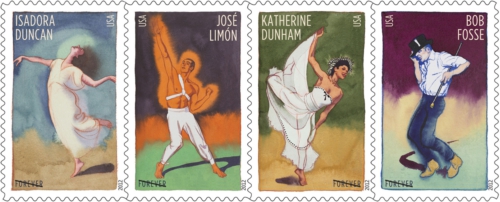 LOS ANGELES — The U.S. Postal Service paid tribute today — on National Dance Day — to four influential choreographers who forever changed the art of dance in this country and around the world: Isadora Duncan, José Limón, Katherine Dunham and Bob Fosse.
The Innovative Choreographers stamps were dedicated at Los Angeles County's Grand Park, as part of the West coast's flagship National Dance Day Celebration, by Nigel Lythgoe, executive producer and co-creator of "So You Think You Can Dance" (SYTYCD), the FOX prime-time dance reality show, and Ruth Goldway, chairman of the Postal Regulatory Commission (PRC).
"I want to thank the U.S. Postal Service for creating such beautiful stamps honoring these four legendary choreographers and for issuing them on National Dance Day," said Lythgoe. "I hope these stamps serve not only to educate people about the art of dance and its history, but also to motivate them to dance themselves." Read more
The following letter was submitted to the Postal Regulatory Commission by Mark Jamison, Postmaster of Webster NC, who is retiring today. Jamison has been very outspoken on his views of changes within the Postal Service.
Commissioners
I am not an intervener in this docket. I understand that these comments cannot become a part of the record and may not have an impact on your deliberations in this case. I hope however that you will read them and give them some thought even if they do not add to the weight of your decision.
I am retiring today after more than thirty years of government service, over twenty-eight of that with the United States Postal Service. I retire having served the town of Webster, North Carolina as postmaster for the last fourteen years.
Webster, a Level 13 office, serves post office boxes only and as late as two years ago brought in more than $120,000 in revenue. It serves a much wider community than the 476 post office boxes housed within it. People come to Webster because, I am told, the service is both friendly and thorough. They come from a distance even though there are at least three other offices within fifteen miles including a Level 20 in Sylva, North Carolina..
Over the years, in addition to delivering mail, selling postage, and offering advice on mailing, I have filled out money orders for the elderly and others who needed that assistance. I have watched children grow up. I have gone to countless dance and piano recitals, several weddings, and more funerals than I care to mention. I have put together four bicycles so they would be ready on Christmas morning. I have opened stuck jars, called doctors and utilities for explanations for customers. I have been an ear, a friend and a counselor and in all these roles and many others I have proudly represented the United States Postal Service. Read more
APWU News Bulletin 18-2012, July 26, 2012
The failure of House Republican leaders to take action to resolve the congressionally-manufactured USPS financial crisis has brought the Postal Service to the brink of default, APWU President Cliff Guffey is warning union members. A $5.5 billion payment is due to the U.S. Treasury on Aug. 1, but the Postal Service cannot make the payment.
"House GOP leaders are abandoning you – and their responsibility to address the USPS crisis. Their failure demonstrates once again how crucial it is to change the political dynamic in our country."
– APWU President Cliff Guffey
The default will have no immediate impact on mail delivery or employees' pay, Guffey noted.
But the missed payment will focus attention on the Postal Service — and many of the pronouncements will be misleading or downright inaccurate, he warned. "Already there have been editorials calling for drastic cutbacks and privatization," he pointed out. "Most of these misguided editorials fail to recognize the cause of the Postal Service's financial difficulties, so they can't possibly advocate a reasonable solution."
Although the default won't have immediate consequences for mail delivery or pay, the Postal Service's precarious financial situation has forced the USPS to begin the process of closing half of the nation's mail processing centers, scaling back overnight mail delivery, and slashing hours at post offices, the union president pointed out. Read more