From the Postal Regulatory Commission:
In December, the United States Postal Service requested a non-binding advisory opinion from the Postal Regulatory Commission on its proposal to consolidate its mail processing network and alter the delivery standards for First Class Mail and Periodicals.  This request was designated as PRC Docket No. N2012-1.
In support of its proposal and request for advisory opinion, the Postal Service submitted testimony from 13 witnesses and several thousand pages of supporting documentation.  Initial discovery concluded on Friday.
Under the law, an advisory opinion of this type is governed by the Administrative Procedure Act, and requires an on the record hearing, as specified in 39 U.S.C. 3661(c).  Public Hearings have been scheduled.
A copy of the one page procedural schedule for this docket is published on page 8 of this document: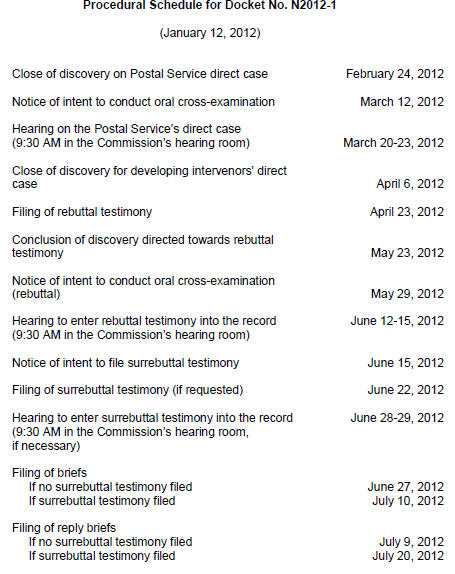 Mail Processing Network Rationalization Service Changes, 2012