In October 1970, his friend was pushing 40. Newhouse decided to send a birthday card. "These days you can rent almost anything," said the card's exterior. Inside the message continued, directing the recipient to return the card in time so the sender could get his "deposit" back.
That's all it took for the card to be returned, over and over. The card has now made 78 roundtrips via regular First-Class Mail. "I am going to frame it and hand-deliver it to my friend for the 79th and last trip," Newhouse said, "in celebration of his 80th birthday."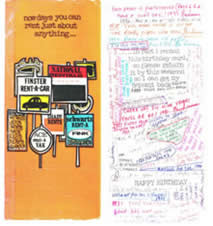 The card now is scribbled with numerous comments about strange little snacks (which Newhouse also included each year as a gift). "Every year my friend put his collection of cans, jars and bottles on display for the family to enjoy," Newhouse said. Along with the display of food, the colorful and long-lived birthday card appeared, again and again.
"This card is a testimony of a long and blessed friendship," Newhouse said. "It also testifies to the professionalism and efficiency of the United States Postal Service, because the card has never been delayed or damaged in any way. I appreciate and thank the countless Postal employees who, for 40 years, faithfully cared for our unique and well-worn treasure."