Pledges support for customer experience improvement plans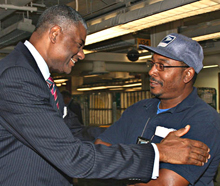 Treating customers well is key to revenue generation and keeping USPS competitive, Deputy Postmaster General (DPMG) Ron Stroman told Chicago District employees last week.
The DPMG also called for tapping into the "reservoir of trust" USPS has earned as the most trusted government agency to establish a culture of customer service. "We also need to re-instill in our employees a sense of pride in working for the Postal Service, pride in their appearance and pride in how they treat each customer," said Stroman.
Stroman visited Chicago to meet with the district's leadership team, customer service managers, and with retail associates and letter carriers at two stations. He noted that USPS beats the competition when it comes to delivery service — but that alone isn't enough to increase revenue.
"We beat FedEx and UPS in package growth last year," Stroman told the station managers. "We have more competitive prices, and we have more business opportunities. Now, we have to provide better customer service."
Stroman noted Chicago's efforts to improve customers' experiences with USPS and pledged his support as station managers listed ideas to address four key areas for continued gains — building strong relationships, loyal customers, repeat customers and revenue growth.
"Our customers have choices, they don't have to come to us," said Stroman. "How people are treated makes all the difference in the world."
via USPS News Link