USPS OIG creates new fraud awareness poster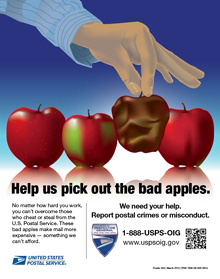 The Office of Inspector General (OIG) is distributing a new fraud awareness poster. Poster 204 encourages employees to help the OIG "pick out the bad apples" by reporting postal crimes or misconduct. The poster features a Quick Response (QR) Code, which allows employees to report misconduct to the OIG Hotline. Anyone with a QR Code app on their smart phone can scan the code and be connected directly to the Hotline.
Posters have been distributed to all postal facilities and should be prominently displayed on workroom floors and employee bulletin boards. Copies of the new poster are free and may be ordered from through the eBuy2 system under Material Distribution Center catalog listing 7690-08-000-0914.
PostalReporter reader:  Unfortunately, the OIG doesn't care about those who cheat or steal from employees (e.g.. Out of Schedule Premium, Overtime).