Excessing Information for USPS Mail Processing Centers in California
Article 12 of the Collective Bargaining Agreement requires the USPS to prepare impact statements when operational changes are expected to lead to the involuntary reassignment of APWU-represented employees. These reports must notify the union of the anticipated impact; the number of employees affected by craft; the locations to which employees will be reassigned; and, in the case of a new installation, the anticipated complement by tour and craft. Article 12 requires management to periodically update APWU regional coordinators of any changes to the information provided.
Information was obtained from Omar Gonzalez, APWU Western Region Coordinator. All the facilities listed below are located in California with the exception of Honolulu, HI.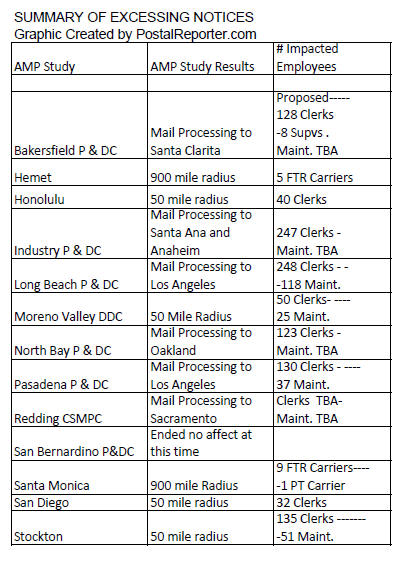 Thanks to Bobby Donelson for the initial list of excessing notices. PostalReporter.com revised the list.
The following is a  notice sent by USPS to APWU:
As a matter of general interest, the Postal Service is immediately waiving the following driver testing for externally hired bargaining unit employees:
Initial Road Test (Exam 804)
End of Classroom Test (Exam 805)
End of Training Test (Exam 806)
Externally hired employees who were previously required to successfully complete the above-referenced testing must complete the following licensing and training courses:
State Driving Record and Valid License Check
USPS Defensive Driver Course, Web Based Training (WBT) #4360106
Vehicle Familiarization Skills Course, Controlled Drive
Upon successful completion of these courses employees will receive certification by the Driving Safety Instructor.
The subject waiver is in effect until further notice. A waiver of the subject testing for current bargaining unit employees was put into effect on October 7, 2011.
See complete list here