In the six months the nation's first Village Post Office (VPO) in Malone, WA, has been operating, customer traffic has increased and business is thriving.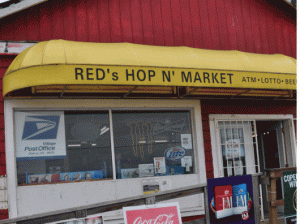 This pioneering VPO, located in Red's Hop N' Market, averages about 15 Forever Book stamp sales per month and plans to offer more mailing options such as Prepaid Forever Priority Mail envelopes and boxes in the future. According to the owner, these products are what customers want and need to conduct their mailing business.
Local customers who now receive mail at the VPO appreciate being able to retrieve it at their convenience, 24-hours a day, as well as retaining their Post Office Box address.
News about the first VPO has gone viral and customers even come from neighboring towns. One Malone resident's daughter, who lives in Australia, even heard about it on her local news channel. "Looks like our partnership is getting stronger," said Seattle District Manager Yul Melonson, "and far-reaching."
As of February, USPS has received more than 600 VPO inquires from interested vendors. About a dozen additional VPOs with contracts are poised to open in the near future, and 54 are currently in negotiations or awaiting evaluations.
Click here to see photos of some of the Postal Service's other fully-operational VPOs.
via USPS News Link