U.S. Olympic Hopeful Julie Zetlin Performs at Special Ceremony
COLORADO SPRINGS, CO — The U.S. Postal Service today dedicated the new Love Ribbons Forever Stamp at the Colorado Springs Olympic Training Center. The stamp went on sale early Feb. 2 and is available at many Post Offices. Stamps also may be purchased at usps.com and by phone at 800-782-6724.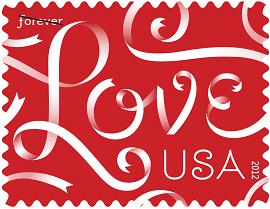 "On behalf of the U.S. Postal Service, it is my privilege to dedicate the latest addition to one of our most popular, colorful and beloved stamp themes, the LOVE stamp series," said Selwyn Epperson, district manager, Customer Service and Sales, Colorado/Wyoming District. "This year, we are adding ribbons to that list, specifically, Love Ribbons. Like stamps, ribbons often adorn our special packages to friends and family," said Epperson.
"As you celebrate all of the wonderful events that are coming up this year, Mother's Day, Father's Day, birthdays, graduations and weddings, or whatever the occasion, remember the Love Ribbons Forever Stamp," said Epperson.
Today's dedication ceremony featured a special performance by U.S. Olympic hopeful Julie Zetlin of Bethesda, MD, and the United States National Rhythmic Gymnastics Team.
Also, participating in the ceremony were John Register, associate director, Community and Military Programs, United States Olympic Committee; Glen Werner Roseboom, director, Colorado Springs Olympic Training Center; and Heather Skold, main anchor, KRDO NewsChannel 13, ABC.
For nearly 40 years, the LOVE stamps have featured a wide range of subjects, including flowers, Victorian lace, cherubs, swans, candy hearts and abstract designs.
Graphic Illustrator Louise Fili, under the guidance of art director Derry Noyes, designed the LOVE Ribbons Forever Stamp to feature pink-tinged satin ribbons that spell out the word "Love" in an elegant, graceful, cursive script on a bright red background.
The Love Ribbons Forever Stamp is being issued as a Forever Stamp in self-adhesive sheets of 20. Forever stamps are always equal in value to the current First-Class Mail 1-ounce price. The stamps are being sold at a price of 45 cents each, or $9 per sheet.
Customers may view the Love Ribbons Forever Stamp, as well as many of this year's other stamps, on Facebook at facebook.com/USPSStamps, through Twitter @USPSstamps or on the website Beyond the Perf at beyondtheperf.com/stamp-releases/2012. Beyond the Perf is the Postal Service's online site for background on upcoming stamp subjects, first-day-of-issue events and other philatelic news.
source: USPS