USPS Needs New Math to Explain November 2011 Net Loss of $1.8 Billion
The US Postal Service filed its second month preliminary financial report of the 2012 fiscal year (unaudited) with the Postal Regulatory Commission (PRC) . USPS reported a net operating loss of $1.267 billion for the month of  November 2011. This same period last year saw a $456 million net loss.  USPS reported a drop of volume in all classes of mail except shipping which rose 32.0% during the month of November. Most all non-personnel expenses such as Vehicle Maintenance Service, Information Technology,  Rural Carrier  EMA, supplies and services saw an increase.
USPS expenses for the Postal Service Retiree Health Benefit Fund (PSRHBF) rose $101.8% ($925 million compared to $458 million for the same time last year). The year to date total for the 2006 Postal Reform required law stands at $1.850 Billion.
USPS reported planned operating net losses after the second month of the FY 2012 as $2.014 Billion. But USPS reports planned net income losses as $1.586 –a  $428 million difference.  Just hold on the new math will all come together with this next paragraph.
USPS reported a net loss $139 million for the month of October but the year-to-date losses are $1.836 Billion which is a total discrepancy of $430 million.  USPS explains the $925 million PSRHBF payment as follows:
The $925 million November and $1,850 million Year-to-date Retirement Health Benefit expense represents 1/12 and 2/12 of the $5.6 billion due on or before September 3, 2012 as required by Public Law 109-435 and the $5.5 billion due on or before August 1, 2012 as required by Public Law 109-435 as amended by H.R 2055. The Postal Service is studying the options available on the appropriate Generally Accepted Accounted Principles (GAAP) for recognition and disclosure of this obligation on their December 31, 2011 Financial Statements to be released on February 9, 2012.
Got it?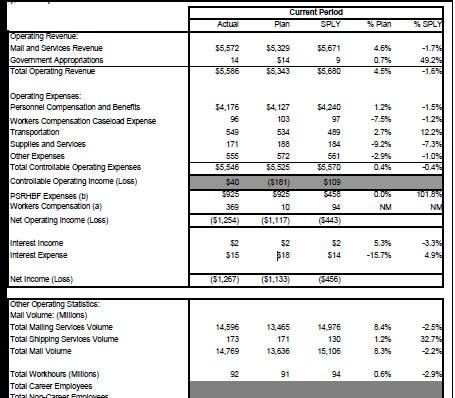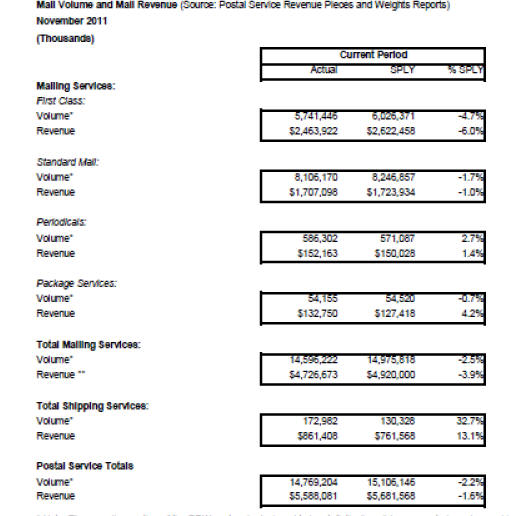 see full report from PRC – USPS Preliminary Financial Information (Unaudited) for November 2011