Ignores Union's call to appoint Democrat to the Postal Regulatory Commission
December 2, 2011
WASHINGTON, DC – Today, President Barack Obama announced his intent to nominate the following individuals to key Administration posts:
    Tony Hammond –  Commissioner, Postal Regulatory Commission
Tony Hammond, Nominee for Commissioner, Postal Regulatory Commission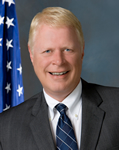 Tony Hammond served on the Postal Regulatory Commission and its predecessor agency, the Postal Rate Commission, from August 1, 2002 to October 7, 2011.  During that time, he was elected to two separate terms as Vice Chairman of the Commissions.  Previously, Mr. Hammond was owner and managing member of T. Hammond Company, LLC, a private consulting firm.  In addition, he was Senior Vice President of the direct marketing firm FL&S, and Senior Consultant to Forbes 2000, Inc.  Mr. Hammond served for ten years on the staff of then-Southwest Missouri Congressman Gene Taylor, the ranking member of the House Post Office and Civil Service Committee.  Mr. Hammond received a B.S. from Missouri State University. – White House Press Release
If confirmed, Mr. Hammond will join the Commission with his fellow Republicans Mark Acton and Robert G. Taub, and Democrats Ruth Y. Goldway and Nanci E. Langley.Earlier this year, APWU Region Coordinator Omar Gonzalez urged postal employees to call upon President Obama to appoint a Democrat to the Postal Regulatory Commission. At the time  terms of  Tony Hammond and Mark Acton had expired.  In May 2011, President Obama re-nominated Republican Mark Acton. Acton is now Vice Chairman of the PRC.  In October 2011, Republican Robert G. Taub was sworn in as Commissioner  following his nomination by President Barack Obama and confirmation by the United States Senate. Apparently President Obama has ignored the Union's call for the Postal Regulatory Commission to be dominated by members of his own Democratic Party.