GAO Report: Action Needed to Maximize Cost-Saving Potential of Alternatives to Post Offices
Highlights:
USPS has expanded access to its services through alternatives to post offices in support of its goals to improve service and financial performance. Retail alternatives offer service in more locations and for longer hours, enhancing convenience for many customers, but certain characteristics of these alternatives could be problematic for others. For example, services obtained from some alternatives cost more because of additional fees, which could deter use by price-sensitive customers. Furthermore, although about $5 billion of its $18 billion in fiscal year 2010 retail revenue came from alternatives, USPS officials said it is too early to realize related cost savings. USPS also lacks the performance measures and data needed to show how alternatives have affected its financial performance. A data-driven plan to guide its retail network restructuring could provide a clear path for achieving goals. Without such a plan, USPS may miss opportunities to achieve cost savings and identify which alternatives hold the most promise. USPS has sought to raise customers' awareness by developing media campaigns, enhancing its online tools for locating postal access points, and creating standard symbols for post offices and retail alternatives to show which products and services they offer. However, USPS has not assessed whether its message is reaching its customers, such as by using one of its existing customer surveys, and therefore does not know to what extent customers are aware of and willing to use its various retail alternatives.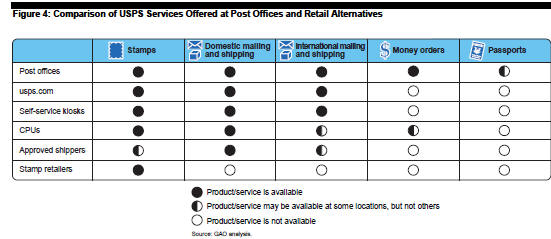 Although the public increasingly uses postal retail alternatives, more widespread adoption will be needed if USPS is to close thousands of post offices as planned in the next few years. USPS has projected that by 2020 alternatives to post offices will account for 60 percent of its retail revenue. USPS's oversight of its retail partners, which includes entering into written agreements with them and providing training and guidance, could be improved if USPS modified its approach to monitoring compliance with its procedures. Local USPS officials are supposed to conduct quarterly reviews of retail partners to make sure they are following mailing procedures, but according to retail partners and USPS officials in field and local offices, these reviews do not always occur as often as intended because of resource constraints. A risk-based monitoring approach would allow targeting limited USPS oversight resources to areas of concern and thus address issues that could otherwise discourage customers from adopting retail alternatives, such as inadequate service. USPS should develop a plan to guide its retail network restructuring that is supported by relevant performance measures and data and includes a method to assess the effectiveness of its public communication strategy. USPS should also implement a risk-based approach to monitoring retail partners. USPS reviewed a draft of this report and stated it is developing a plan to guide its retail network restructuring and agreed to review how it monitors retail partners.
USPS has stated that it will realize cost savings as it closes redundant and underutilized post offices in response to decreased demand and customers shifting to retail alternatives. USPS announced in September 2011, that it will review as many as 15,000 post offices for possible closure, which it stated could produce annual savings of $1.5 billion as part of an effort to eliminate $20 billion in annual costs by 2015. As part of USPS's review begun in Post Office as a replacement option for some communities where underutilized yet costly post offices may close.July 2011, USPS said that post offices that could potentially close are those that have insufficient demand and available alternative access. Also, in July 2011, USPS launched a new retail partnership initiative, the Village Post Office, which directly ties retail alternatives to USPS's ability to cut costs.
Recommendations for Executive Action
Recommendation: To better ensure that USPS's efforts to expand access through retail alternatives support its strategic goals to improve its service and financial performance, the Postmaster General should develop and implement a plan with a timeline to guide efforts to modernize USPS's retail network that addresses both traditional post offices and retail alternatives. This plan should also include: (1) criteria for ensuring the retail network continues to provide adequate access for customers as it is restructured; (2) procedures for obtaining reliable retail revenue and cost data to measure progress and inform future decision making; and (3) a method to assess whether USPS's communications strategy is effectively reaching customers, particularly those customers in areas where post offices may close.
Recommendation: To help ensure contract postal units and Approved Shippers provide postal products and services in accordance with USPS policies, while making efficient use of its constrained resources, the Postmaster General should establish procedures to focus monitoring of retail partners on those determined to be at a greater risk of not complying with its requirements and procedures.