The White House Ornament has been on sale at select post offices since October 13, 2011.
Press Release from USPS
WASHINGTON — The Postal Service has teamed with one of the nation's leading companies producing decorative and commercial products to sell the 2011 White House Holiday Ornament at approximately 7,000 Post Offices across the country.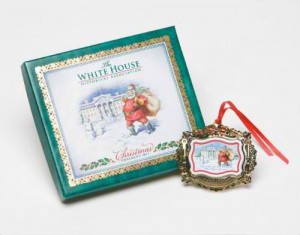 ChemArt of Lincoln, RI, has been the sole manufacturer of the annual White House Christmas ornament since the program inception in 1981, and was given exclusive retail distribution rights by the White House Historical Association. ChemArt and the association are proud to present the 36th ornament in the association's series, which recalls the administration of President Theodore Roosevelt, his wife Edith and the couple's young family when they called the White House home from 1901 until 1909.
"We anticipate that the ornament will be very popular — especially among collectors," said Steven Mills, manager, USPS Retail Products. "Our vast retail presence will enable the product to reach a broader audience than ever before."
The 2011 White House Holiday Christmas Ornament is now available at select Post Offices until Christmas Day for $24.99.
Also, under a licensing agreement, ChemArt will manufacture and sell holiday ornaments in 2012 to celebrate the 100th anniversary of the Postal Service's Letters to Santa program. In 2013, under the agreement, ChemArt will introduce licensed Holiday ornaments based on more than 50 years of Postal Service holiday stamp images.
"All of the ornaments will be made in the USA and will be sold in Post Offices and commercial retail channels," said Gary Thuro, manager, USPS Licensing. "We are pleased to bring quality products to our customers and generate revenue for the Postal Service."
Customers can view an image of the collectible envelope on Facebook at facebook.com/USPSStamps.