Each workday, Sun City, AZ, Letter Carrier Dan Stawarski loads his LLV with mail. Then, he hangs a bicycle on the back of the vehicle, drives to his route, parks and uses the bike to complete his deliveries.
He's not alone. According to the latest edition of "Going Green," up to 70 letter carriers in several locations — including Miami Beach, FL, and St. Petersburg, FL — also use bicycles to complete their appointed rounds.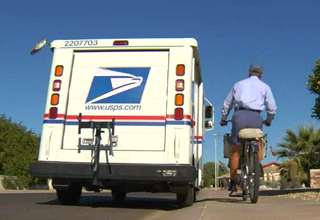 Stawarski and his peddling colleagues are appropriate symbols for the Postal Service, which is working hard to improve fuel efficiency in its fleet of 215,000 vehicles. Six days each week, USPS services more than 150 million delivery points in the U.S. To transport the mail to and from these points, the Postal Service's fleet logs more than 4 million miles per day. According to the USPS annual Sustainability Report, the fiscal year 2010 fuel bill for all postal-owned and contracted transportation was $1.7 billion.
By 2015, the Postal Service's goal is to reduce fuel consumption by 20 percent. Also by that year, USPS will increase its use of alternative fuels by 15 percent.
According to Chief Sustainability Officer Tom Day, the Postal Service has made a good start toward reaching these goals. "Within the last two years, we've replaced more than 6,500 gasoline-powered vehicles with more fuel-efficient models," he says. "And we've already increased our use of alternative fuels by 133 percent since fiscal year 2005."
Tests are underway on a hybrid step van and other electric vehicles. And five companies are participating in a pilot program to convert LLVs to battery power.
"Reducing our dependence on petroleum is important to our bottom line," says Day. "We're also committed to reducing our carbon footprint and honoring our commitment to an improved environment."
Click here to view the latest edition of "Going Green" and learn more about Letter Carrier Dan Stawarski.
source: USPS news Link