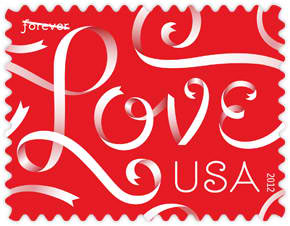 WASHINGTON — Love is in the air — and on the Web — as the Postal Service continues its sneak peek at some of its 2012 stamps by previewing the Love Ribbons Forever stamp today through social media outlets. Using social media to reach broader, more diverse audiences is an initiative that began Monday. Select stamps from the 2012 commemorative program will continue to be previewed one at a time.
Customers may preview the stamps on Facebook at facebook.com/USPSStamps, through Twitter @USPSstamps or on the website Beyond the Perf at www.beyondtheperf.com/2012-preview. Beyond the Perf is the Postal Service's online site for the back story on upcoming stamp subjects, first-day-of-issue events and other philatelic news.
Love Ribbons Forever stamp
"Evoking images of romance and elegance, this year's Love stamp features a graphic design of satin ribbons that spell out the word 'Love' in a graceful, cursive script," said Stephen Kearney, manager, Stamp Services. "Ribbons are often used to enhance the beauty of bridal bouquets, wedding invitations and other special celebrations for our friends and loved ones — it's a perfect complement to have them on stamps, too.
"The 2011 Garden of Love and 2010 Love Pansies In A Basket stamps were some of our best sellers," Kearney added, "and we expect the Love Ribbons Forever stamp to be quite popular as well."
For this stamp, working under art director Derry Noyes of Washington, DC, graphic designer Louise Fili of New York City spelled out the word "Love" in a cursive script resembling a satin, pink-tinged white ribbon on a bright red background. Pieces of ribbon that appear to extend beyond the borders of the stamp broaden the reach of the design.
Other 2012 Forever stamps previewed this week were the 2012 Cherry Blossom Centennial and the Edgar Rice Burroughs stamps.
The Postal Service receives no tax dollars for operating expenses, and relies on the sale of postage, products and services to fund its operations.