From birth dates to death dates when we think of Memorial Day most of us think about our military veterans who have given their lives in defense of America. Of equal importance is the Workers Memorial Day celebrated one month earlier. Today, I would ask that you also think about this day with high regard for all postal employees.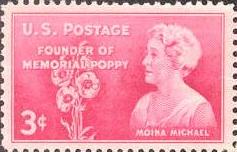 According to memorialday.org in 1948 the U.S. Post Office honored Ms. Moina Michael for her role in cornering an idea to wear red poppies on Memorial Day in honor of those who died serving the nation during war. The Post Office issued a red 3 cent postage stamp with her likeness on it in her role of founding the National Poppy Movement.
The 2009 USPS Comprehensive Statement states "The Postal Service is among the nation's largest employers of veterans and disabled veterans and actively recruits men and women in uniform." This long proud history goes way back in time. It is fitting on this day to send a shout-out through a moment of silence for all of our postal workforce brothers and sisters who are now deceased. This Memorial Day should also be a time for USPS employees to reflect on our 235 year history of binding the nation together through the adversity of inclement weather, natural disaster, workplace violence, accidents, and personal tragedy.
If you browse the web pages of usps.com you will find a chronicle of famous postal workers who have paved the way for us today. I'm talking about citizens like postmasters turned U.S. President Abraham Lincoln, and Harry Truman, Vice President Adlai E. Stevenson, actor Rock Hudson, aviator Charles Lindbergh, and Walt Disney just to name a few. Other coworkers from Washington, D.C. have posthumously received the Postmaster General Medal of Freedom for outstanding individual contributions.
As additional Samaritans and heroes countless employees have helped others with little regard for their own safety. There is a mail facility in Texas named after a postal worker killed in Iraq, a facility named after a former letter carrier in Troy, New York, a structure in San Jose, California named for a labor union president, and another named after a postmaster in San Francisco, California and the list goes on. For our present and future generations our labor unions and management associations have created scholarship funds memorializing our workplace leaders.
In most facilities when a comrade "passes" their photo is posted on the time-clock as a last memory for all to peep on the way into work and on the way out as we talk and shed so many tears. It often seems as though we show more affection and respect for the dead then when people are alive. When we work for the United States Postal Service we get military veterans and civilians who jointly make personal sacrifices to make this invaluable delivery service possible. The unfortunate reality of life for all of us is that nobody gets out alive! On Memorial Day don't forget to think about all of the postal employees who have gone before all of us so that we may continue to keep this American business torch lit.
Ronald Williams, Jr.
(written exclusively for PostalReporter.com)