CRESTWOOD, KY — Love can now last forever as the U.S. Postal Service issued today the Garden of Love Forever stamps and related philatelic products, which go on sale nationwide at local Post Offices, online at usps.com and through the toll-free line, 1-800 782-6724.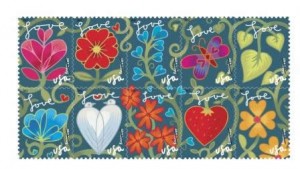 "At the Postal Service, we understand the power our stamps have in helping to celebrate special events that require a special stamp of approval," said Ellen Williams, a member of the Postal Service's Board of Governors, who dedicated the stamps during a special ceremony held at the Yew Dell Botanical Gardens.
"As you celebrate all of the wonderful events of spring — Father's Day, graduations and weddings, or whatever the occasion, remember the Garden of Love stamps," Williams said. "They're a nice little extra on everything you mail. They'll also serve as a reminder that no matter what the season or what the reason, the Garden of Love stamps are the perfect way to send love, spread cheer, say congratulations or show you care."
Joining Williams in dedicating the stamps were Crestwood Mayor Dennis Deibel, Yew Dell Botanical Gardens Executive Director Paul Cappiello and Kentuckiana District Manager David Dillman, U.S. Postal Service. Honored guests were Yew Dell Botanical Gardens Board of Directors Chairman Mary Rounsavall and Crestwood Postmaster Wilburn Malone.
The Garden of Love Forever stamps consist of 10 different designs on a pane of 20 stamps. The design depicts a colorful mosaic of flora and fauna in a garden setting. These stamps are a continuation of the Love series, begun in 1973, and are designed for use on Valentine's Day, Mother's Day and Father's Day cards, as well as on other occasions when love and affection are expressed.
Award-winning illustrator José Ortega of New York City and Toronto depicts an abstract garden of bright flowers, a butterfly, a strawberry and doves, interlaced with vines that run from one stamp to another. Each prominent element of the design is in the shape of a heart. The deep blue background is reminiscent of a brilliant summer sky. The word "Love" sits on top each stamp.
How to Order the First-Day-of-Issue Postmark
Customers have 60 days to obtain the first-day-of-issue postmark by mail. They may purchase new stamps at a local Post Office, at The Postal Store website at usps.com/shop, or by calling 800-STAMP-24. They should affix the stamps to envelopes of their choice, address the envelopes (to themselves or others), and place them in larger envelopes addressed to:
Garden of Love Stamp
Postmaster
6815 Central Avenue
Crestwood, KY 40014-9998
After applying the first-day-of-issue postmark, the Postal Service will return the envelopes through the mail. There is no charge for the postmark. All orders must be postmarked by July 2, 2011.
How to Order First-Day Covers
The Postal Service also offers first-day covers for new stamp issues and Postal Service stationery items postmarked with the official first-day-of-issue cancellation. Each item has an individual catalog number and is offered in the quarterly USA Philatelic catalog. Customers may request a free catalog by calling 800-STAMP-24 or writing to:
Information Fulfillment
Dept. 6270
U.S. Postal Service
PO Box 219014
Kansas City, MO 64121-9014
Philatelic Products
There are five philatelic products available for this stamp issue:
* 576163, First-Day Cover Set of 10, $8.80
* 576168, Digital Color Postmark Set of 10, $16.00
* 576191, Ceremony Program, $6.95
* 576194, Notecards Set of 10, $14.95
* 576199, Keepsake Pane and Digital Color Postmark Set of 10, $24.95
To learn more about the Postal Service's Stamp Program, visit http://beyondtheperf.com.
The Postal Service receives no tax dollars for operating expenses, and relies on the sale of postage, products and services to fund its operations.
We're everywhere so you can be anywhere: www.uspseverywhere.com.