The Postal Service is making it easier for customers to reduce their carbon footprints with the release of a new "Go Green" tote bag.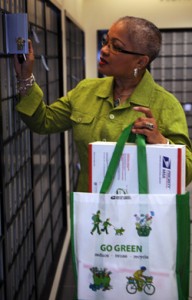 A great alternative to plastic shopping and grocery bags, the tote bags feature images of the Go Green Forever stamps scheduled for release tomorrow.
The lightweight tote bags — available at select Post Offices for $2 — are roomy and durable enough to carry the largest Priority Mail Flat Rate Box. Quantities of the new tote bags are limited and will remain for sale while supplies last.
The Go Green tote bag is the second reusable bag the Postal Service has issued. Last year, USPS began offering "Recycled Materials" tote bags (Link, 9/21/10). Lead-free, washable and made from completely recyclable material, these tote bags are still available for purchase. The bags cost $1 and are available at select Post Offices and The Postal Store.
The Postal Service is releasing the Go Green Forever stamps — with the tote bags featuring the stamps — to raise awareness of simple actions everyone can take to conserve natural resources and help protect the environment.