On his Twitter page, Congressman Darrell Issa, Chairman of the House Oversight and Government Reform  Committee  has captured USPS problems by using graphics.
Also ,Issa says on his Facebook page: "The question at hand is whether or not the USPS can continue to operate with unsustainable pay and benefit growth. All signs (like rapidly declining mail volume and consumer demand) point to no, so …Darrell and the Oversight Team are heading this off to strengthen the Postal Service and spare taxpayers from bearing the burden of a potential postal bailout."
Interesting message on Issa's Facebook page from Joey Featherston: "UPS employees pay nothing towards their awesome medical and dental benefits! The Postal service doesn't provide dental (never has), however it is available to employees on their dime."
note: Very expensive dental and eye insurance plans for postal employees. Postal employees must also pay for disability insurance in case of illness or injury off the job. In the private sector most employees can (like in California) utilize the state disability insurance.
On his Twitter page Issa uses graphic for showing: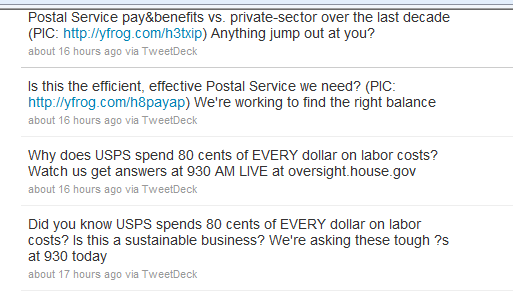 On Issa's Facebook page