NAPA, CA — In a celebration of the significant contributions and exemplary life of Thomas (Tom) Kongsgaard, the U.S. Postal Service will hold a ceremony on March 28, 2011 at 11:00 a.m., to rename the Franklin Post Office, 1351 Second Street, Napa, as the Thomas Kongsgaard Post Office.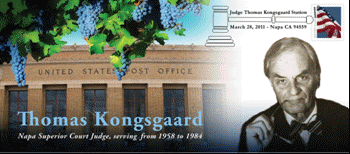 "The dedication of a Post Office building in the memory of a local citizen is a fitting tribute because a Post Office, like the mail that runs through it, binds this nation together," said Kim Fernandez, Bay-Valley District Manager for the United States Postal Service. "And, like Thomas Kongsgaard's character, this Post Office exudes a strong and functional purpose of strength and unity within the community and across our nation."
Kongsgaard retired as California's Superior Court judge in 1984 after serving on the bench for 26 years. During World War II he was a Naval officer in the Pacific conflict and lost a leg during a minesweeping maneuver. As a judge he served two terms on the California Judicial Council, was a member and chairman of the Judicial Performance Commission, a member of the Board of Directors of the California Judges' Association and the Cow County Judge's Association. Kongsgaard traveled to more than 30 California counties as a visiting judge, acquiring a statewide reputation for his genuine concern for the welfare of others. He served  as a trustee of the Napa Valley Unified School District and at Napa Valley College.
 Kongsgaard's daughter, Mary Williams, will represent the family at the ceremony.
source: USPS