On March 26, 2011 in New Orleans, Louisiana, the Postal Service will issue a Jazz commemorative stamp (Forever priced at 44-cents)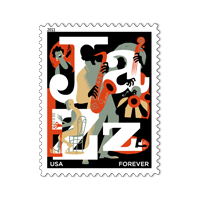 Inspired by vintage jazz record-album covers, Pasadena , Calif. , artist Paul Rogers captured the eclectic nature of jazz music and the spontaneity and improvisation of jazz artists in creating art for the Jazz Appreciation Forever Stamp.
"With this evocative Jazz stamp, we celebrate the music and the musicians who play it in studios, clubs and concert halls and on festival stages," said Thurgood Marshall Jr., vice chairman, Postal Service Board of Governors. "I can't think of a more perfect place to dedicate this new stamp than here in New Orleans , the birthplace of so many legendary jazz performers… and where jazz first flowered near the dawn of the 20th century.
"Jazz is a pastime that brings people together, regardless of race, ethnicity or background," said Marshall . "It's a lot like the Postal Service, which has been bringing people together for over 235 years, through the power of the mail."
Forever Stamps are always equal in value to the current First-Class Mail 1-ounce rate. The Jazz Appreciation stamps go on sale today nationwide at Post Offices and online at usps.com/shop.
Joining Marshall to dedicate the Jazz Appreciation Forever Stamp were Guy Cottrell, chief postal inspector; Nancy Marinovic, president, New Orleans Jazz and Heritage Foundation; Shamarr Allen, leader of the funk band Underdawgs; Jeffery Taylor, manager, Louisiana District, Postal Service; and Paul Rogers.
How to Order the First-Day-of-Issue Postmark
Customers have 60 days to obtain the first-day-of-issue postmark by mail. They may purchase new stamps at a local Post Office, at The Postal Store website at usps.com/shop, or by calling 800-STAMP-24. They should affix the stamps to envelopes of their choice, address the envelopes (to themselves or others), and place them in larger envelopes addressed to:
Jazz Stamp
Postmaster
PO Box 50336
New Orleans, LA 70150-0336
After applying the first-day-of-issue postmark, the Postal Service will return the envelopes through the mail. There is no charge for the postmark. All orders must be postmarked by May 26, 2011.
How to Order First-Day CoversThe Postal Service also offers first-day covers for new stamp issues and Postal Service stationery items postmarked with the official first-day-of-issue cancellation. Each item has an individual catalog number and is offered in the quarterly USA Philatelic catalog. Customers may request a free catalog by calling 800-STAMP-24 or writing to:
Information Fulfillment
Dept. 6270
U.S. Postal Service
PO Box 219014
Kansas City, MO 64121-9014
Philatelic Products
There are four philatelic products available for this stamp issue:
· 466661, First-Day Cover, $.82
· 466665, Digital Color Postmark, $1.50
· 466691, Ceremony Program, $6.95
· 466699, Keepsake Pane and Digital Color Postmark, $10.95
source: USPS