The Postal Service tomorrow will issue the first of its "all-Forever" First-Class Mail commemorative stamps in recognition of the upcoming Lunar New Year celebration.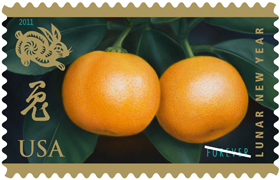 This year's Lunar New Year stamp, Year of the Rabbit, will be dedicated at the National Archives at Atlanta in Morrow, GA. It is the fourth of 12 stamps in the Postal Service's Celebrating Lunar New Year series, which began in 2008 with the Year of the Rat. The Year of the Rabbit begins Feb. 3, 2011, and ends Jan. 22, 2012.
And, as of tomorrow, all First-Class Mail commemorative stamps will be Forever stamps. Their value will always be equal to the current First-Class Mail 1-ounce rate, no matter when the stamps are used.
The Lunar New Year is celebrated primarily by people of Chinese, Korean, Vietnamese, Tibetan and Mongolian heritage in many parts of the world. Parades, parties and other special events are common.
People born in the lunar new year associated with a particular animal are said to share characteristics with that animal. Individuals born during the Year of the Rabbit are said to be cautious, mannerly and sensitive. They are also thought of as lucky.
To learn more about the USPS 2011 stamp program, click here.