Samples of greeting card envelopes bearing prepaid postage and Intelligent Mail barcodes to be used in an upcoming market test.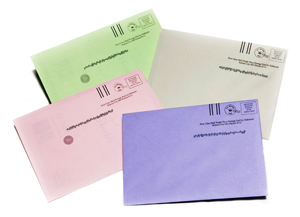 The Postal Service has begun a 2-year test of its Alternate Postage Payment method for greeting cards. This new payment method allows customers to send greeting cards without affixing postage.
Greeting card companies producing the cards will add Intelligent Mail barcodes (IMb) and other markings specified by the Postal Service to each envelope so the cards can be identified in the mailstream by automated scans.
In a filing with the Postal Regulatory Commission, USPS said the Alternate Postage Payment test will make it easier for customers to purchase and mail cards because they don't have to determine the correct postage and then affix it separately. Increased volume will benefit both the greeting card industry and USPS, the filing said.
The test is similar to an agreement announced last year between USPS and Hallmark to produce and market a new line of postage-paid greeting postcards .
Greeting card companies will pay USPS 50 percent of the postage based on company reports of greeting cards sold to customers. The remainder of the postage will be collected based on scans of the cards that are mailed.
This payment will be retained by the Postal Service even if a customer purchases the card but does not mail it.
The premium product offering will be priced above First-Class Mail single-piece postage.