Last year's release of Animal Rescue: Adopt A Shelter Pet stamps appears to have created a strong case of puppy love with customers.
The stamps, featuring photographs of five cats and five dogs from animal shelters and rescue groups, earned the "Reader's Pick from 2010" award for the best stamps of last year as voted by reader's of Beyond the Perf — the Postal Service's online complement to the USA Philatelic catalog. Click here to view the list of winners.
To date, customers have purchased a total of 13.4 million panes, generating more than $117 million. An average commemorative stamp printing is 65 million individual stamps. USPS initially printed 300 million Animal Rescue: Adopt a Shelter Pet stamps — 4.5 times more than average.
"Sales of the stamps exceeded expectations," said Stamp Services Manager Dave Failor. "USPS minted an additional 100 million stamps to meet demand — the only commemorative stamps in past 5 years to receive a reprinting."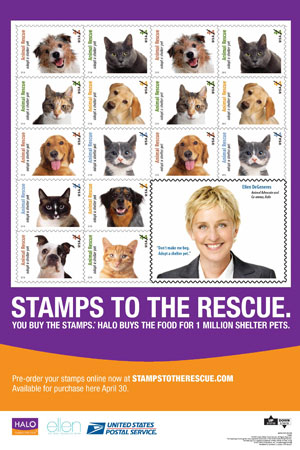 The Animal Rescue: Adopt A Shelter Pet stamps continued the Postal Service's half-century tradition of promoting attention and awareness of national social issues. The stamps received a boost from talk show host Ellen DeGeneres, a well-known advocate for pet adoption — and Halo, a pet food company she co-owns. After introducing the stamps on the Ellen DeGeneres Show last March, USPS and Halo launched a Stamps to the Rescue campaign. Halo set a goal of feeding 1 million shelter dogs and cats by the end of 2010 — and delivered on its promise. Halo has donated food to more than 100 shelters throughout the United States.
The animals featured on the Animal Rescue: Adopt a Shelter Pet commemorative stamps are based on photographs of cats and dogs from shelters and rescue groups — seven from an animal shelter in New Milford, CT. All were adopted into family homes.
The 44-cent First-Class Mail stamps are available for sale at The Postal Store, local Post Offices and 800-STAMP-24.