WASHINGTON — The U.S. Postal Service is getting into the holiday spirit. Today, post offices from Anchorage to Ashtabula and Honolulu to Houston are showing signs of the season. Building on the wildly successful advertising campaign, A Simpler Way to Ship, touting flat-rate shipping, the Postal Service offers its customers A Simpler Way to Holiday this season.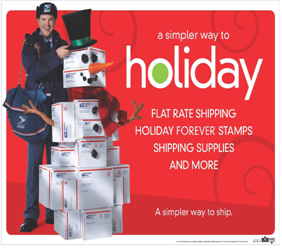 "We know our customers want more time with their friends and families during the holidays and less time shipping gifts," said Tim Healy, vice president, Retail Products and Services. "We are highlighting the products and services that make holidays less stressful, less hectic — and yes, simpler — for our customers."
Along with festive seasonal signage promoting flat-rate shipping, free package pickup and the new holiday Evergreens Forever stamps, select post offices and usps.com/shop are carrying a wide variety of products perfect for holiday gift giving, gift wrapping and gift sending, including:
Holiday greeting cards — sold individually or in packs of 5 and 20.
Evergreens note cards — set includes eight blank cards, envelopes and eight Evergreens Forever stamps.
ReadyPost holiday mailing boxes and bubble mailers — great for shipping or wrapping.
Rudolph the Red-Nosed Reindeer — DVD of the classic holiday special. Share the magic of this family tradition. Customers who purchase the DVD and postage for the Priority Mail Small Flat Rate Box at the same time will save $2 off the DVD price.
Let it Snow — CD features 11 holiday classics from well-known artists including Paul McCartney, Frank Sinatra and Ray Charles. Customers who purchase the CD and postage for the Priority Mail Small Flat Rate Box at the same time will save $2 off the CD price.
2010 Stamp Yearbook — 64-page, hardcover book includes colorful stamp images, illustrations and photographs, plus 65 collectible stamps.
The Postal Service Guide to U.S. Stamps, 37th Edition — fully illustrated, four-color guide provides comprehensive information about every U.S. stamp issued from 1847 to 2010.
The Postal Service receives no tax dollars for operating expenses, and relies on the sale of postage, products and services to fund its operations.