A European company mails bags of fake blood to prospective clients to emphasize its unrelenting work ethic.
Some marketing agencies promise to give blood,sweat and tears to clients. But Touch Branding has been intent on backing up that claim with a branding effort — including an edgy mail campaign — built around a bold message: "We'll give our blood for good branding."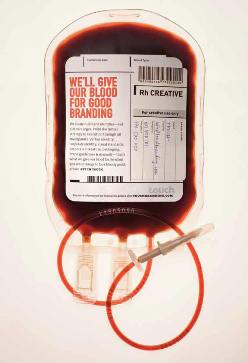 The Prague-based marketing firm has pushed the idea in dramatic fashion, mailing real blood bags filled with fake blood to potential clients throughout the region around the European metropolis.
Touch Branding creative director Martin Marušinec says the primary goal of the campaign, which launched in 2008 and continues today, is to introduce the firm as a branding agency to the creative directors of ad agencies in the Czech Republic and Slovakia.
The mailer includes a letter with a short introduction to the company and a link to its website, which resembles a blood bag.Touch procured the authentic blood bags from a company that had a surplus of bags that were past their expiration dates. The fake blood was created from a recipe that company executives found online.
"It was fully produced in-house,with the cost of around $1 per piece,"Marušinec says.
Marušinec says the promotion was devised as a mailer because the company was confident the piece would leave a lasting impact. "We felt that direct mail would work the best because once they unpacked the blood bags, there was no way they wouldn't pay attention to the message we wanted to deliver," he says.
The promotion's positive response confirms that the campaign did just that. Marušinec says the agency has landed several medium- and large-scale branding projects through the targeted ad agencies. The campaign has also won several awards and received positive media attention worldwide, a bonus that Marušinec says gives his firm a long-term advantage over the competition.