"Murder by Proxy: How America Went Postal"
Postal Workers in Florida Can See New Documentary Murder by Proxy: How America Went Postal on a Big Screen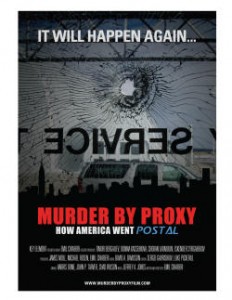 Los Angeles, CA – August 30, 2010. A new documentary on violence in the USPS, Murder by Proxy: How America Went Postal, will be screened at two Florida film festivals this September. The film was written/produced/directed by Emil Chiaberi and produced by Oscar and Emmy winner James Moll.
Murder by Proxy will be shown at the CENFLO film festival on September 3rd at 2:55pm, At the West Orange 5, Theaters, 1575 Maguire Road Ocoee, FL. Two more screenings will take place on September 6th and 9th at Nomadic Tendencies (US branch of Strasburg International Film Festival) located at Muvico Baywalk 20, 151 2nd Ave N, St Petersburg 33701.
In July "Murder By Proxy" was screened for survivors of the 1991 postal massacre in Royal Oak, Michigan, where it was received with a strong reaction from Royal Oak postal workers. Inquiries have been pouring in from USPS employees from different parts of the country asking when they can see the film in their area. Now Florida postal workers who are based in or around St. Petersburg and Ocoee will get the chance to see the film on a big screen.
Murder by Proxy: How America Went Postal is the first documentary to examine the phenomenon of workplace massacre through the lens of the growing socio-economic strains that have swept over this country—beginning in the Reagan era and extending to the present. In the face of an ever changing economy, the film follows the plight of one of America's working class heroes', Charlie Withers, a 39 yr. veteran letter carrier from Royal Oak, MI, the home of the films focused incident.
The analysis of work conditions at USPS is central to the film, which sheds light on the toxic postal culture through the prism of catalyst and accountability. And for good reason: the modern, stress-driven, homicidal rampage was born in the postal system—forever changing the meaning of the phrase "going postal". The USPS presents an ideal case study because it's been a breeding ground for the same volatile conditions that are now found in most US work environments. "In many ways, the story of work related postal violence chronicles the erosion of America's working class", says director Emil Chiaberi.
Today, the USPS is under intense pressure to reduce spending. As a result, workers are once again experiencing the same volatile conditions that led to the 1991 Royal Oak shooting and other related episodes of violence. "It seems like we've learned little from the past," says Charlie Withers, whose investigation of the hostile conditions in Royal Oak's Post Office resulted in Congressional hearings. He adds: "I think this film is very timely…hopefully, it can help prevent future tragedies." With the grassroots uprising of support, already formed by responses pouring from the postal unions, workers are eager to help educate those ignorant or dismissive of the destructive effects of volatile management practices. There is a drought of corporate responsibility for this workforce, as lives are sacrificed and the postal service becomes an increasingly exasperated and toxic culture of greed, and violence.
Following the September screenings in Florida and Germany MURDER BY PROXY: How America Went Postal will be shown in several domestic and international Film Festivals. Please visit our website form more information.
ABOUT MURDER BY PROXY: How America Went Postal
Written/Produced/Directed: Emil Chiaberi
Produced by James Moll
Edited by David A. Davidson
Running time: 76 minutes
Language: English
Release date: 2010
Official Website: www.murderbyproxyfilm.com
ABOUT EMIL CHIABERI
Emil Chiaberi grew up in the Soviet Union and now lives and works in the United States as a filmmaker and CEO of an emerging biomedical company. From serving in the Soviet Army to managing a 100+ employee business, his array of personal and business experiences have made him a keen observer of the connections between cultural phenomenon, psycho-spiritual crises and their relationship to social violence. Emil's first film, Murder by Proxy, explores these connections.
ABOUT JAMES MOLL
Oscar and Emmy winning filmmaker James Moll has been producing and directing non-fiction films for more than ten years. Moll's feature documentary credits include Running the Sahara, Inheritance, Price for Peace, and The Last Days, which chronicles the lives of five Hungarian Holocaust survivors.
In addition to his work as a filmmaker, Moll established and operated The Shoah Foundation (currently the USC Shoah Foundation Institute for Visual History and Education) with Steven Spielberg for the express purpose of videotaping Holocaust survivor testimonies around the world.