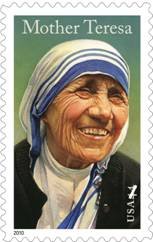 What: The U.S. Postal Service will pay tribute to Mother Teresa, who received the Nobel Peace Prize in 1979 for her humanitarian work. Noted for her compassion toward the poor and suffering, Mother Teresa, a diminutive Roman Catholic nun and honorary U.S. citizen, served the sick and destitute of India and the world for nearly 50 years.
Who: James H. Bilbray, member, Board of Governors, U.S. Postal Service John E. Potter, postmaster general and chief executive officer, U.S. Postal Service Archbishop Pietro Sambi, apostolic nuncio of the United States The Most Reverend Barry C. Knestout, auxiliary bishop, Washington, D.C. Reverend Monsignor Walter R. Rossi, rector, Basilica of the National Shrine of the Immaculate Conception Sister Leticia, provincial superior, Missionaries of Charity Mitzi Betman, vice president, Corporate Communications, U.S. Postal Service Thomas Blackshear II, artist, Mother Teresa stamp
When: Sunday, Sept. 5, 2010, 3:15 p.m.
Where: Basilica of the National Shrine of the Immaculate Conception Great Upper Church
400 Michigan Avenue, SE
Washington, D.C. 20017-1566
Background: Mother Teresa, an ethnic Albanian, was born Agnes Gonxha Bojaxhiu on Aug. 26, 1910, in Skopje in what is now the Republic of Macedonia. Drawn to the religious life as a young girl, she left her home at the age of 18 to serve as a Roman Catholic missionary in India. "By then I realized my vocation was towards the poor," she later said. "From then on, I have never had the least doubt of my decision." Having adopted the name of Sister Mary Teresa, she arrived in India in 1929 and underwent initial training in religious life at a convent in Darjeeling, north of Calcutta. Two years later, she took temporary vows as a nun before transferring to a convent in Calcutta. She became known as Mother Teresa in 1937, when she took her final vows.
The stamp features a portrait of Mother Teresa painted by award-winning artist Thomas Blackshear II of Colorado Springs, Colorado.