82-year-old Nebraska Rural Carrier has no plans on retiring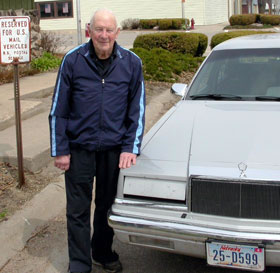 Brainard, NE, Rural Carrier Dwayne Raskey has delivered mail for 50 years without an accident. For that achievement, he has been named the recipient of the prestigious Joseph M. Kaplan USPS National Safe Driver of the Year award by the National Safety Council (NSC). Raskey was among 10 regional finalists for the award.
Raskey — the longest-serving rural carrier in the Central Plains District — was recognized at an NSC awards ceremony in Orlando, FL. The national award represents the "best of the best" for safe driving by professional drivers.
"I enjoy the people and enjoy the driving, that's why I stay with it," said Raskey of his job. His safety record behind the wheel has already been well documented. Earlier this year, he earned a rare 2 million mile safety award from the NSC.
Raskey says the keys to driving safely include being observant and driving according to the conditions. "If it's muddy or snowy, you've got to slow down," cautioned Raskey, whose route covers 96 miles on mostly gravel roads.
Brainard Postmaster Sherri Helman uses words like "dedicated, loyal, friendly, honest, and conscientious" to describe Raskey — who also hasn't used a day of sick leave. "There's never a day that he doesn't come in with a smile on his face and a warm good morning greeting," she said.
National Safety Council Honors Brainard's Dwayne "Oley"Raskey (11/19/09)